Back Circle, Tucville, Dave and Celina's All-Stars and Kitty Hustlers sealed their berths to tonight's quarterfinal round, when the 'Keep Ya Five Alive' Futsal Championship continued on Thursday.
Hosted at the National Gymnasium, Mandela Avenue, Back Circle overcame Mocha based unit Rhythm Star by a 4-2 margin in the feature event. Stephon McLean, Andy Duke, Selwyn Williams and Vincent Thomas netted in the fourth, 13th, 28th and 30th minute respectively.
For the loser, Sceyon Hope and Kevin Gordon were on target in the fifth and seventh minute apiece. Also, a star-studded Tucville outfit overcame Showstoppers 3-1 on penalty kicks, after normal and extra time finished 5-5.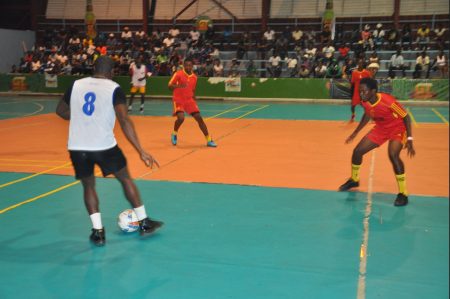 Pernell Schultz bagged a double in the sixth and 38th minute for the winner. He was aided by Rafael Edwards, older sibling Dennis Edwards and Eon Alleyne, who scored in the ninth, 22nd and 26th minute respectively.
For the loser, Marvin Josiah scored twice in the 14th and 19th minute, while Jermaine Samuels tallied a brace in the 28th and 33rd minute. Recording a 21st minute conversion was Delroy Ferdinand.
Similarly, Guinness 'Greatest of the Streets' National Champions, Dave and Celina's All-Stars, scraped past Tiger Bay 2-1 on penalty kicks, following a 1-1 score at the end of regulation and extra time.
Donovan Francis scored for Dave and Celina's in the 12th minute, while Wendell Austin equalized in the 17th minute. Meanwhile, Hustlers downed Alexander Village 2-0. Anthony Sancho and Kwame Holder netted in the 32nd and 36th minute respectively.
The other four teams that have already sealed their berth to the 'Elite Eight' section are Sparta Boss, West Front Road-Gold is Money, Future Stars and Leopold Street.
Winner of the event will walk away with $500,000 and the championship trophy. On the other hand, the runners-up will receive $250,000 and the corresponding accolade.
Around the Web