Kares Engineering Inc has replaced Digicel as the title sponsor of the Boyce/Jefford Track and Field Classic.
This detail and others were disclosed yesterday during a press briefing for the eighth annual fixture which runs off on August 12-13 at the MacKenzie Sports Club Ground.
According to co-founder, Edison Jefford, the event which attracts international athletes, has now been rebranded the 'Kares Engineering Inc/Boyce and Jefford Track and Field Classic'.
Chairman of the Boyce/Jefford Classic, Colin Boyce expressed "Sincere gratitude for having Kares Engineering Inc partnering with us at this very crucial time for the eighth edition of the Championship."
Boyce surmised that it is important that Kares is now onboard as the telecommunications giant found it "difficult" to continue the partnership with the Boyce/Jefford Committee.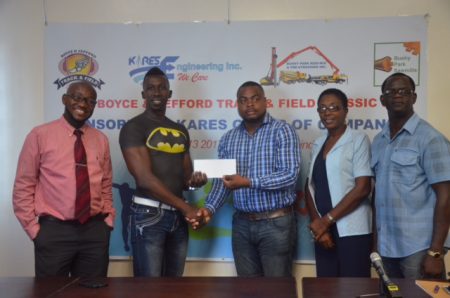 Boyce then lauded the efforts of the engineering company's CEO, Radesh Rameshwar for "rising to the challenge" and ensuring that the athletes compete unhindered.
Once again, the former athlete then expressed hope that in the following year or two, the event would be run on a synthetic track facility in the Mining Town since the Classic which was birthed in Linden will be remaining there.
Meanwhile, Kares Engineering's Communications Consultant, Mondale Smith stated that while Kares is a construction company it is also concerned about building Guyana through its youth who are the future of the country. Smith added "Kares cares."
On the track and in the field, in excess of 140 athletes will be competing for the top honours.
The Clubs will compete for $2 million in cash with $1 million allotted to the winner; $500,000 to the runner-up; $300,000 to third place and $200,000 to fourth place. In addition, the competition has six international events, including the male and female 200m, male 800m, female 1500m and the male and female Long Jump.
Each of the international events carries a US$500 purse, with US$250 for the winner; US$150 to second and US$100 for third. The male and female champion athletes will also cash in, running away with $50,000 each.
Eight gate prizes will also be given away to lucky ticket holders. Children tickets are available at ZSK Beverage Depot for $500, while all other tickets will cost $1000 at the venue on the day. Movements Sound, DJ Winston, Father Moey and Determine Immortal Sound will be providing the entertainment throughout the event.
Around the Web