Sixteen-year-old Julien Alfred od St Lucia who clocked 11.56s, three seconds off her personal best, to dominate the field and win the girls 100m race at the recent Commonwealth Youth Games in The Bahamas has made her intentions known of competing the 2020 summer Olympics games set for Japan, Tokyo.
This was disclosed to Stabroek Sport during a recent telephone interview where Alfred excitingly expressed her intentions of competing in the blue riband event.
"Yes! My eyes are set on 2020 Olympics," the 16-year-old, who grew up in Ciceron, Castries St. Luca said."By the grace of God and as long as I stay healthy, I'm guaranteed to do my very best there."
Alfred, who created history by becoming the first athlete from her native to win a gold medal at the Commonwealth Youth Games, said that her exploits have already been opening new doors for her since making her mark.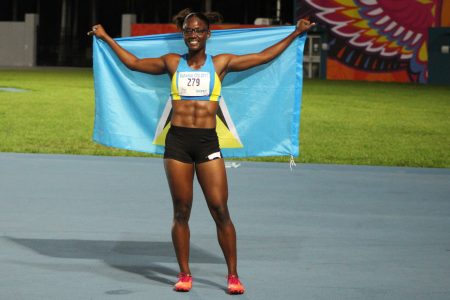 "It's [Commonwealth Gold medal] going to boost my career a lot. I'm already getting a lot of opportunities to go to another school; it's going to build my confidence," the 2015 St. Lucia Junior Sportswoman-of-the-year said.
Alfred won her second major gold medal at the Commonwealth Youth Games after winning the 2015 CAC 60m dash in Trinidad and Tobago.
The young woman, who first realized her athletics interest during a Physical Education Class while she was in Grade Three, currently attends the St Catherine High School in Jamaica and is coached by Marlon James, one of the more recognized coaches on the Island.
Touching on her transition from St. Luca to Jamaica in pursuit of her dream she said: "I went to Jamaica at 14-years-old with the determination to get better and move further in the sport with the goal of becoming a pro at a young age.
"I am currently going on to my third year in Jamaica. My first year was hard since I had to adapt to the training and their culture; my second year was quite better, my times improved a whole lot I am comfortable now."
The young sprinter who intends to continue the Caribbean's domineering showing in sprint events is steadily improving after clocking personal best performances in both the 100m (11.53s) and 200m (24.17s) races in March of this year.
Her Spartan like sprinters' physique, should be a joy to watch in three years time at the premier calender sprint event in Tokyo, should all things remain in her favor.
Around the Web