Author Miriam Rice- Walcott's `Cricket- The Spectators Guide to the Game' is a must read for all cricket lovers.
Rice-Walcott told Stabroek Sports last evening that she got the idea of writing the book which deals with the complex subject in a simple and effective manner so as to give readers a better insight of the game after observing that fans came to her native Barbados to witness the game but did not know the rules.
This is the Third Edition of the book said Rice-Walcott, who admits that she is from a "cricket crazy" family.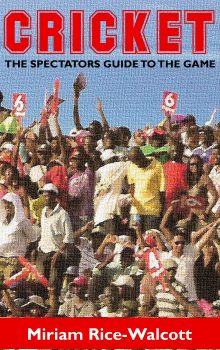 And with the Caribbean Premier League (CPL) competition taking place throughout the Caribbean and North America, the game of cricket is very much on the minds of people, Rice-Walcott noted adding that acquisition of the book would be useful for spectators following the CPL.
"Many people profess to know the ins and outs of the game but many of them don't' really know," she declared.
Rice-Walcott's book is dedicated to filling in the gaps in the cricket knowledge of the average spectator.
Chockful with useful information for the average spectator, Cricket – The Spectators Guide to the Game, offers the sports enthusiast a user-friendly introduction to the universal game.
It gives an overview of the game and includes a Glossary of the most used cricket terms.
Rice-Walcott also provides a brief history of the game and explains the differences in the variations of the game; Test Cricket, First Class Cricket, One Day Cricket and the latest and probably the most exciting format, Twenty/20 Cricket.
The book has colour pictures including examples of all of the umpire's signals.
There are also a couple of easy to fill out scorecards and pages to collect the autographs of one's favourite players.
The book is a set out in an easy to read reference format so that the spectator can easily look up what they want to know without missing out on what is happening during a game.
This format also makes it a useful tool for the young cricketer.
Whether one is in the stands watching a game of cricket, watching the game on television or listening to the radio, Cricket – The Spectators Guide to the Game, will aid the spectator in understanding how the game of cricket is played.
This book is not yet on sale in Guyana but is available in paperback online at Amazon.com and electronically via Kindle.  It can also be downloaded in PDF form.
Miriam Rice-Walcott is the bes selling author of 15 adult colouring books and two previous cricket related books.  She is the founder of Blue Palm Publications which helps writers to self-publish their books. More information can be found at www.bluepalmpublications.com.
Around the Web