Middle distance standout from the United States Virgin Islands (USVI) Malique Smith has been confirmed to compete in the International Men's 800m race at this weekend's Kares Engineering Inc. Boyce & Jefford Track and Field Classic VIII.
Smith has a personal best time of 1:51.90, which is better than any time achieved by the Guyanese middle distance athletes this year. He clocked the time at the Aliann Pompey Invitational in July, whilst winning the 800m title. He faces keen competition from Julius Mutenkanga, who is a Ugandan Olympian.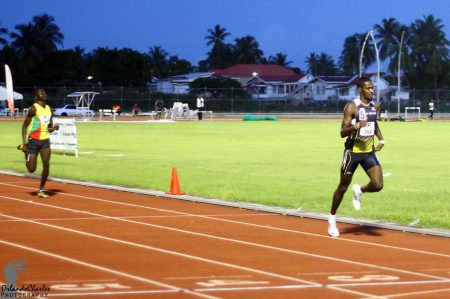 In addition to Mutenkanga, Smith will battle defending champ, United States-based Kevin Bayley and Trinidad and Tobago's Ashton Gill, in what promises to be one of the highlights of the 2017 Boyce/Jefford Track and Field Classic.
Mutenkanga has a personal best time of 1:46.30 from the International Association of Athletics Federations (IAAF) World Championships in 2011 in Daegu, South Korea.
The loaded 800m event scheduled for Sunday also features Samuel Lynch, Quincy Morian and Anfernee Headecker among others, who will carry the local challenge. The race is also likely to include Desmond Amsterdam and Daniel Melville.
Smith is a member of the St. Croix Track Club and an honour student/athlete of the University Of Arkansas Pine Bluff (UAPB). He earned all-conference honours on the track and in cross-country at UAPB during his freshman year, 2015/2016.
Smith has been consistent and versatile throughout the indoor and outdoor seasons during his recent sophomore year at UAPB. Malique appears to have found his best event in the 800m – a blend of his mother Mireille, an All-American and the 1992 NCAA 800m Indoor champion at Eastern Michigan University, and his father, primarily a 400m sprinter who was a member of the V.I. 4 x 100m relay team at the 1991 Pan Am Games in Havana, Cuba and a 1992 Barcelona Olympian.
What is certain from the candidates in the Boyce/Jefford International 800m Men is that the 2011 record of 1:55.90 is definitely under threat. Smith arrives in Guyana at 9:30pm tonight while all the other athletes arrived yesterday.
The Boyce and Jefford Track and Field Classic VIII is sponsored by Kares Engineering Inc., Ansa McAl under the Lucozade and Stag Beer brands, the National Sports Commission, the Guyana Revenue Authority, Red Wing Shoes at VSH United, R&D Engineering, Mohamed's Enterprise, K&B Mining, YK Investments Pawn Shop and Antarctic Maintenance and Repairs.
Around the Web