Guyana got off to a fabulous start yesterday, by winning three matches when play began in the team events at NLA XXV Senior Caribbean Squash Championships in Kingstown, St. Vincent.
In the Women's Division, in the morning session, at the National Squash Center, Guyana defeated Bermuda 5-0. Mary Fung-A-Fat defeated Suzie Lacey 11-3, 11-5, 11-2, while Ashley Khalil humbled Emma Keane 11-5, 11-4, 11-2. Taylor Fernandes downed Meagan Jackson 11-7, 11-3, 11-2 and Larissa Wiltshire crushed Jayne Craig 11-1, 11-5, 11-5. Victoria Arjoon received a walkover victory.
On the Men's side, in the second session at midday, Guyana defeated the Organization of East Caribbean States (OECS) 4-1. Nyron Joseph defeated Othniel Bailey 3-11, 11-1, 13-11, 11-9, while Sunil Seth edged Joseph Chapman 7-11, 11-8, 13-15, 12-10, 13-11.
Meanwhile, Richard Chin downed Jules Snagg 11-8, 11-4, 11-7 and Jason Ray Khalil defeated Jason Doyle 11-7, 12-19, 11-9. Guyana's lone defeat occurred when Alex Arjoon lost to Joe Faragher-Kneipp 6-11, 8-11, 12-14.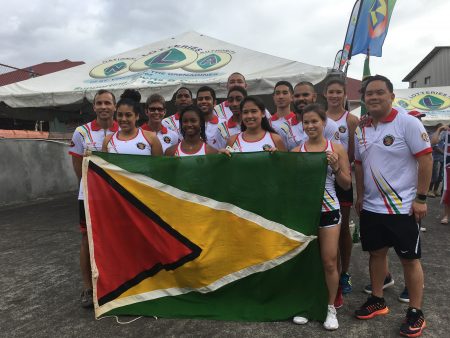 In the fourth and final session, at 6:00 pm, Guyana's Ladies beat the OECS by a scoreline of 4-1. Victoria Arjoon defeated Amber Glasgow 11-2, 11-1, 11-3, while Mary Fung-A-Fat downed Zoe Sorrentino 11-4, 11-2, 11-5. Taylor Fernandes got past Thandi Myers 11-6, 9-11, 11-7, 11-5 and Larissa Wiltshire beat Caroline Dubois 11-1, 11-2, 11-4. Ashley Khalil suffered Guyana's only loss, going down to Daniela Schumann 5-11, 6-11, 7-11.  Barbados Ladies head the table after the first day following clean sweeps of the Cayman Islands and Bermuda.  In the Men's section, the Guyana team sits at the top of Group A, while Barbados heads Group B after their 4-1 win over Bermuda.
Around the Web