Guyana got off to a fabulous start yesterday, by winning three matches when play began in the team events at NLA XXV Senior Caribbean Squash Championships in Kingstown, St. Vincent.
In the Women's Division, in the morning session, at the National Squash Center, Guyana defeated Bermuda 5-0. Mary Fung-A-Fat defeated Suzie Lacey 11-3, 11-5, 11-2, while Ashley Khalil humbled Emma Keane 11-5, 11-4, 11-2. Taylor Fernandes downed Meagan Jackson 11-7, 11-3, 11-2 and Larissa Wiltshire crushed Jayne Craig 11-1, 11-5, 11-5. Victoria Arjoon received a walkover victory.
On the Men's side, in the second session at midday, Guyana defeated the Organization of East Caribbean States (OECS) 4-1. Nyron Joseph defeated Othniel Bailey 3-11, 11-1, 13-11, 11-9, while Sunil Seth edged Joseph Chapman 7-11, 11-8, 13-15, 12-10, 13-11.
Meanwhile, Richard Chin downed Jules Snagg 11-8, 11-4, 11-7 and Jason Ray Khalil defeated Jason Doyle 11-7, 12-19, 11-9. Guyana's lone defeat occurred when Alex Arjoon lost to Joe Faragher-Kneipp 6-11, 8-11, 12-14.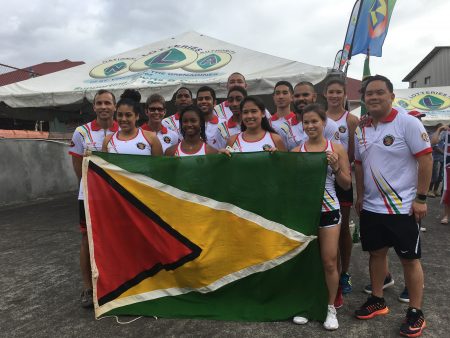 In the fourth and final session, at 6:00 pm, Guyana's Ladies beat the OECS by a scoreline of 4-1. Victoria Arjoon defeated Amber Glasgow 11-2, 11-1, 11-3, while Mary Fung-A-Fat downed Zoe Sorrentino 11-4, 11-2, 11-5. Taylor Fernandes got past Thandi Myers 11-6, 9-11, 11-7, 11-5 and Larissa Wiltshire beat Caroline Dubois 11-1, 11-2, 11-4. Ashley Khalil suffered Guyana's only loss, going down to Daniela Schumann 5-11, 6-11, 7-11.  Barbados Ladies head the table after the first day following clean sweeps of the Cayman Islands and Bermuda.  In the Men's section, the Guyana team sits at the top of Group A, while Barbados heads Group B after their 4-1 win over Bermuda.
Comments

NOTTINGHAM, England,  CMC – Seamer Kesrick Williams has underscored the importance of taking England out of their natural game as West Indies look to square the five-match series in the second One-Day International at Trent Bridge here today.

West Indies middle – order batsman Vishaul Singh who was left out of the Caribbean Test side on their recent tour to the United Kingdom after three appearances against Pakistan at home says he is keen on using the upcoming "A" series against Sri Lanka to force his way back into the West Indies side.

ST JOHN'S, Antigua, CMC – Selectors have named a strong 13-man West Indies A to face Sri Lanka A in the first two four-day "Tests" of the three-match series set to bowl off in Jamaica next month.
There is good news for Guyana and the Region's teen ruggers. According to a release, Rugby America's North (RAN)  and World Rugby have taken the decision to assist Caribbean teams with 50% of their airfare to participate in a qualifying Sevens tournament in April next year in Las Vegas, USA for a place in the finals of the Youth Olympic Games in Argentina seven months later.

Last year's most improved cyclist, Shaquel Agard has been invited to be a part of the Team Econo Car, a star studded team of cyclists to compete in Trinidad and Tobago starting on Sunday.