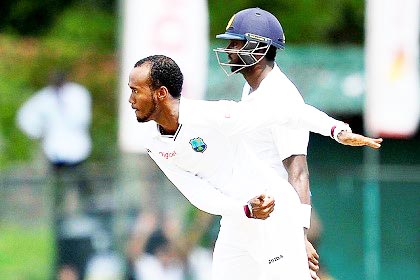 LONDON, CMC – West Indies part-time off-spinner Kraigg Brathwaite has been reported to the International Cricket Council for having a suspect bowling action, following the Caribbean side's humbling innings and 209-run defeat at Edgbaston here Saturday.
The Barbadian, the team vice-captain and first choice opener, sent down six overs during the England first innings of 514 for eight declared, finishing wicket-less.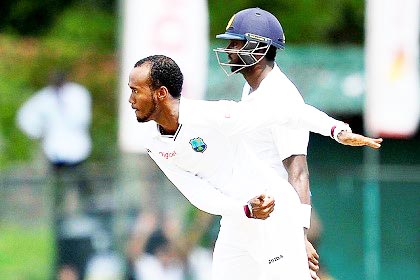 In a statement yesterday, the ICC said the match officials report "cited concerns about the legality of the 24-year-old's bowling action."
"Brathwaite's bowling action will now be scrutinised further under the ICC process relating to suspected illegal bowling actions reported in Tests, ODIs and T20Is," the ICC said.
According to ICC regulations, Brathwaite will now be required to undergo testing within 14 days but will be allowed to continue bowling until test results are returned.
Brathwaite has rarely had a heavy workload in his 38 Tests but has a best of six for 29 against Sri Lanka in Colombo two years ago.
Comments

(Reuters) Three USA Gymnas-tics board members resigned yesterday in the wake of its former team physician sexually abusing female gymnasts, a step the organization said would support its reform efforts.

(Reuters) – The presidents of world soccer and world athletics are set to be snubbed by the International Olympic Commit-tee (IOC) next month when the body is likely to again overlook them for membership, a source told Reuters yesterday.

BRIDGETOWN, Barbados, CMC – The Vivian Richards Cricket Stadium in Antigua will host the final of the Women's Twenty20 World Cup later this year, the International Cricket Council confirmed yesterday.

By Charwayne Walker When Tagenarine Chanderpaul reached three figures against Barbados at the Kensington Oval in the ninth round of the Cricket West Indies Digicel-sponsored Regional four day championships earlier this month, the son of the legendary Shivnarine Chanderpaul had placed himself and his father on an elite fathers and sons list who had the distinct honour of scoring a century at the Regional First Class Level.

By Romario Samaroo Guyana Jaguars Head Coach, Esaun Crandon said Sunday that excellent preparation and planning were the factors mainly responsible for the Guyana Jaguars winning the just-concluded Cricket West Indies (CWI) Digicel Regional four-day competition.