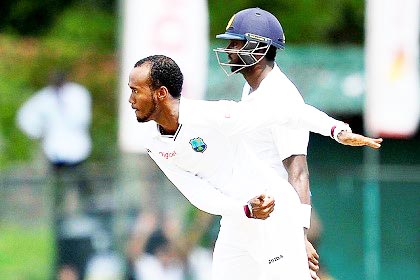 LONDON, CMC – West Indies part-time off-spinner Kraigg Brathwaite has been reported to the International Cricket Council for having a suspect bowling action, following the Caribbean side's humbling innings and 209-run defeat at Edgbaston here Saturday.
The Barbadian, the team vice-captain and first choice opener, sent down six overs during the England first innings of 514 for eight declared, finishing wicket-less.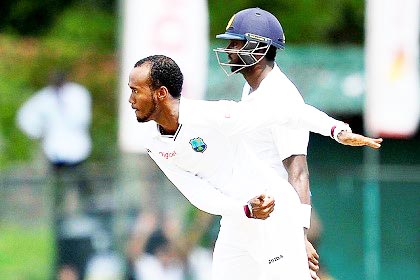 In a statement yesterday, the ICC said the match officials report "cited concerns about the legality of the 24-year-old's bowling action."
"Brathwaite's bowling action will now be scrutinised further under the ICC process relating to suspected illegal bowling actions reported in Tests, ODIs and T20Is," the ICC said.
According to ICC regulations, Brathwaite will now be required to undergo testing within 14 days but will be allowed to continue bowling until test results are returned.
Brathwaite has rarely had a heavy workload in his 38 Tests but has a best of six for 29 against Sri Lanka in Colombo two years ago.
Comments

A call by acting President Moses Nagamootoo urging the Commonwealth Federation to unite through sports was made yesterday at Olympic House (Liliendaal) during his keynote address at the Commonwealth Games Federation (CGF) meeting of the Americas and the Caribbean.

By Noelle Smith If he could get one wish granted immediately it would be for the playing fields and various sporting arenas across the country to be in proper condition.

In an extraordinary display of speed, grit and stamina, Team Coco's Jamal John emerged winner of the grueling 80-mile Victor Macedo Memorial road race yesterday.

Essequibo remained at the top of the points table after completing an exciting three – wicket victory over Georgetown in fourth-round action of the Guyana Cricket Board/Jaguars three – day franchise league at the Tuschen Sports Club ground, East Bank Essequibo, yesterday.

The aspirations of the petite, 23-year-old national and regional squash champion, Mary Fung-A-Fat, was to simply live a childhood dream of 'going pro.' On September 18, Mary participated in her debut match as a full-time pro at the 2017 Nash Cup tournament in London, Ontario, Canada where she gave a solid account of herself despite dropping her match against her English counterpart.