FRANKFURT, Germany (Reuters) – Three-time Wimbledon champion Boris Becker was appointed on Wednesday as head of men's tennis in his home country as the German federation (DTB) looks to revive the once hugely popular sport.
In his new capacity he will also be consulting Davis Cup players as well as all top German players, as the former powerhouse looks to reduce the gap with strong tennis nations.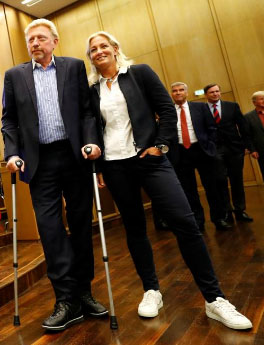 A former world number one who won six grand slams as a player, Becker was also a former Davis Cup coach for Germany from 1997 to 1999 but had an uneasy relationship with the federation.
He won 49 singles titles overall, two Davis Cup crowns and also clinched Olympic doubles gold with Michael Stich at the Barcelona Games in 1992.
"Tennis is a matter of the heart for me. It is what I can do best," Becker told reporters. "I don't need to talk about my achievements as a player and I am proud of my accomplishments as coach.
"I love this sport. I love this country and I am happy again to play an important role in German tennis."
German men have not won a grand slam singles title since Becker's 1996 Australian Open victory and the last German man to win Wimbledon was Stich back in 1991.
For years, Germans were captivated by the victories of Becker and Steffi Graf on the tour and would sit through hours of daily tennis on television.
But tennis-mania in the country gradually ebbed as success became rarer and sponsor money dried up in the early 2000s, with the sport dropping down the popularity pecking order.
Becker, who has endured a difficult relationship with the German media, had a hugely successful spell coaching former world number one Novak Djokovic from 2013 to 2016, a period in which the Serb won six of his 12 grand slam titles.
Around the Web