ZURICH, (Reuters) – Mo Farah won the final track race of his career by the skin of his teeth on Thursday, clinching a dramatic 5,000 metres win after three chasing rivals collided with each other in the last couple of metres.
World champion Muktar Edris, who beat Farah at the World Championships in London two weeks ago, was among the trio left sprawled on the track in the Briton's wake as Farah dived over the line.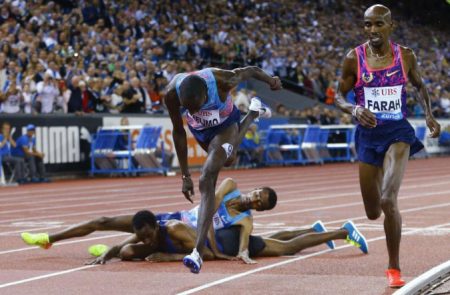 With quadruple Olympic and six-time world champion Farah leading going into the final straight, Ethiopian Edris came powering through and appeared set to snatch victory on the line.
But Edris tripped after being clipped on the shoulder by Paul Chelimo as the American tried to force his way through a gap and he in turn bowled over Yomif Kejelcha, another Ethiopian, on the outside.
Chelimo stumbled over the line in second and Edris's momentum took him over in third.
Britain's greatest racer — and perhaps the best the world has seen too after 10 global title wins — will take to the roads next season to run marathons.
Farah stayed on Edris's shoulder for almost the whole race as they gradually moved up to the field, determined not to be outsmarted by his rivals.
"It's amazing to come away with a win today," Farah told reporters.
"I've been resting up and watching Edris, what tactics he normally uses, studying, working out and tonight the game plan was to sit on him and make him do a lot of the work," he added.
"Going into the last lap, the plan was not to give anyone an inch, and that's what I did."
"I will really miss it but everything must come to an end sometime."
Around the Web