ExxonMobil, the multinational oil company will be the main international sponsor for the impending Pan American Indoor Hockey Championship, slated for the month of October 2017 at the Cliff Anderson Sports Hall.
According to an official release from the Guyana Hockey Board (GHB), "The Guyana Hockey Board scored an important partnership this summer, signing ExxonMobil as the main sponsor of the upcoming Indoor Pan American Cup, scheduled for 14 – 22 October at the Cliff Anderson Sports Hall."
The GHB noted that event is expected to contribute significantly to Guyana's efforts of becoming a priority destination for sports tourism.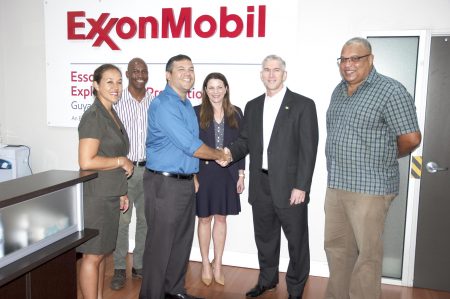 "We are excited to support youth sports and the Guyana Hockey Board. Sports is a great way to reach across generations and cultures to demonstrate our commitment to local development," ExxonMobil Lead Country Manager Rod Henson was quoted as saying, in the release.
This is the first time ExxonMobil has partnered with the Guyana Hockey Board and the first time Guyana has been selected to host a hockey event at the Pan American level.
The 2017 Indoor Pan American Cup (IPAC) features competitions for both men and women, and serves as the Pan American Continental Qualifier for the FIH Indoor Hockey World Cups scheduled to be held Berlin, Germany, in February, 2018.
This year will be one of the largest in the tournament's history and the Americas will be well represented. Seven women's teams and six men's teams from Guyana, Argentina, Barbados, Canada, Mexico, Trinidad & Tobago, USA and Uruguay will participate, with the top team earning a coveted spot in the World Cup.
"This mix fully represents the diversity of the Americas; from the northern reaches of Canada to the southern tip of Argentina. The Guyana Hockey Board is honoured to welcome ExxonMobil on board and expect this partnership will extend Guyana's beauty, warmth and hospitality with the world," the GHB press release said.
Around the Web