The 'Bike Shop' became the latest sponsor to throw its support behind the inaugural Guinness 'Cage' Football Championship donating an undisclosed sum on Saturday.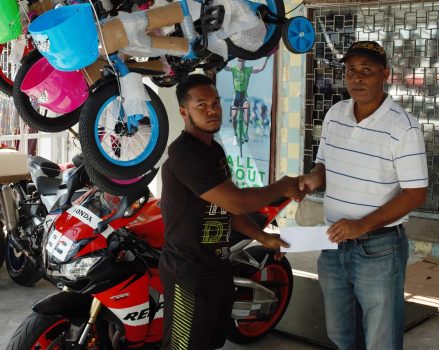 The presentation, which was conducted at the entity's Robb Street location by Jamal Bentley, was received by Rawle Welch of tournament coordinators Three Peat Promotions.
According to a release from the organisers, "Managing Director Jude Bentley, a former national racing cyclist, was instrumental in confirming the support for the ongoing championship which has brought together 32 of the top Futsal teams in what has already provided lots of exciting clashes and upsets.
"Bentley's entity has been a consistent supporter for sports and Saturday's coming on board was just another example of such," stated the release.
Comments

Leaders Essequibo held a slight advantage over Georgetown at the end of day one of their fourth-round clash of the Guyana Cricket Board (GCB) Jaguars three-day Franchise League tournament played at the Tuschen Sports Club ground, yesterday.

Twenty-four–year old Anthony Adams is a left–arm spin bowling all-rounder who is quite competent with the bat.

MELBOURNE, (Reuters) – Australia captain Steve Smith has accused his batsmen of "panicking" under pressure and demanded they show more starch after another collapse against India saw the side thrashed by 50 runs in the second one-day international in Kolkata.

The cream of the nation's cyclists will renew their rivalry this weekend with back-to-back events.
The 45th edition of the CAC Bodybuilding and Fitness championships has been postponed until further notice following the earthquake in Mexico City.