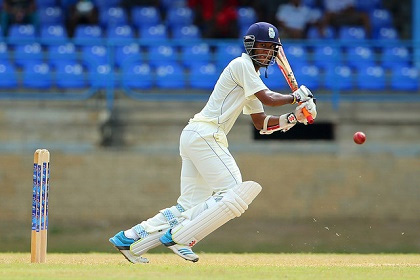 LONDON,  CMC – Test captain Jason Holder hopes Yorkshire's acquisition of Kraigg Brathwaite for the two final games of the County Championship can lead to a breakthrough on the circuit for other West Indies players.
Yorkshire turned to the 24-year-old opener after Australian Shaun Marsh was forced to return home early to honour domestic commitments.
"I would love to see a lot more of our guys playing County cricket whenever the opportunity arises," Holder said.
"There is so much cricket playing now in the world and people tend to go the T20 route but it's good to see Kraigg hanging around and playing the last two games for Yorkshire.

"Hopefully a lot more of our guys can get the opportunity to stay over here and play cricket and develop their trade. I think it is something that each member of the dressing room has spoken about as well so it's good to see that young players are keen on playing County cricket."
The 24-year-old Brathwaite impressed in the second Test at Headingley – Yorkshire's home ground – when he scored 134 and 95 to help West Indies stun England by five wickets two weeks ago.
The performance put the Barbadian squarely in Yorkshire's crosshairs, and the vaunted club will now be hoping for similar exploits in coming weeks.
Holder pointed out that County cricket had been crucial in helping to develop legendary past West Indies players.
"If you go back in the history of West Indies cricket, a number of guys who've done well on the international circuit have played County cricket for counties here," the all-rounder said.
"It is something in our West Indies culture and hopefully we can pick that back up here now [with] Kraigg starting it and more of our guys coming over to play."
Holder is also hoping to follow Brathwaite onto the County circuit and is hoping 2018 provides the opportunity.
"I would love to come over and play County cricket here. It's a childhood dream of mine and I think it would help my cricket as well," he said.
"For me, it's just finding the window of opportunity to come over and play. In the past there have been one or two things that have come up but never really materialised because of the international schedule so we'll see what next year holds. Hopefully I can come over and play some cricket in England."
Comments

(Reuters) Three USA Gymnas-tics board members resigned yesterday in the wake of its former team physician sexually abusing female gymnasts, a step the organization said would support its reform efforts.

(Reuters) – The presidents of world soccer and world athletics are set to be snubbed by the International Olympic Commit-tee (IOC) next month when the body is likely to again overlook them for membership, a source told Reuters yesterday.

BRIDGETOWN, Barbados, CMC – The Vivian Richards Cricket Stadium in Antigua will host the final of the Women's Twenty20 World Cup later this year, the International Cricket Council confirmed yesterday.

By Charwayne Walker When Tagenarine Chanderpaul reached three figures against Barbados at the Kensington Oval in the ninth round of the Cricket West Indies Digicel-sponsored Regional four day championships earlier this month, the son of the legendary Shivnarine Chanderpaul had placed himself and his father on an elite fathers and sons list who had the distinct honour of scoring a century at the Regional First Class Level.

By Romario Samaroo Guyana Jaguars Head Coach, Esaun Crandon said Sunday that excellent preparation and planning were the factors mainly responsible for the Guyana Jaguars winning the just-concluded Cricket West Indies (CWI) Digicel Regional four-day competition.