BRIDGETOWN, Barbados, CMC — Regional administrators have a huge challenge to restore respect and confidence from fans and stakeholders of the game inside and outside of the Caribbean.
This is the view of Randy Harris, the president of the Barbados Football Association and first vice-president of the Caribbean Football Union, following the suspension for six years of CFU president Gordon Derrick by FIFA, the sport's world governing body, on charges of misconduct.
Antiguan Derrick is the third regional administrator behind Trinidad & Tobago's Austin "Jack" Warner and Caymanian Jeff Webb to fall from grace following charges ranging from accepting gifts and other benefits, mismanagement of funds, abuse of position and disloyalty.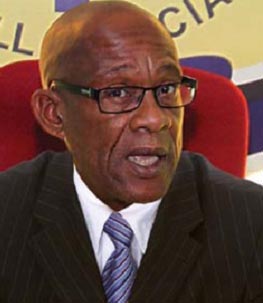 "Based on the events that occurred over the past eight years, we definitely have to look at our credibility as an organization," Harris told the Barbados Today newspaper about the CFU.
"What we need to do now is come up with strategic plans and to put things in place, so that some of the things that occurred in the past will stay there. I don't think it is so difficult. We have a number of bright people on the board of CFU and I believe we would move in a more positive direction going forward."
Harris is expected to take the reins of leadership in the interim until a new president is elected next year and indicated he had enough support around the board table to make things happen.
"I think I have the support of the majority of the members at CFU and I think that is why they put me in the position of first VP at this time," he said. "I know that I would get all the support and assistance in charting the way forward.
"I just have to perform in a way that the members could have more confidence in terms of putting me at the helm and I look forward to that opportunity."
For now, Harris said the CFU will be working closely with CONCACAF, its hemispheric governing body, to advance the development of the sport in the Caribbean.
"The members of the CFU voted for one CONCACAF programme which is the coaching programme and in that programme, it really seeks to work closely with the CFU in the development of the game," he said.
"We really look forward to working together [with CONCACAF] not only in terms of that kind of development, but in terms of competition because next year in March you will see a new kind of competition, our CONCACAF Champions League where the countries of the Caribbean will play a lot more international games."
Around the Web