The National Ladies, Pizza Hut Georgetown Cricket Club (GCC) and National Green maintained their undefeated records, when the GTT National Indoor Hockey Championship continued on Thursday.
Played at the Cliff Anderson Sports Hall, Homestretch Avenue, National Ladies whipped GCC Spartans 14-2 in a women's division fixture while Pizza Hut GCC made light work of Inet Lynx 5-0 in the second match of the section.
Meanwhile, National Green edged Bounty GCC 5-4 in a men's first division encounter. In other results, Hikers defeated St Stanislaus 6-3 in a men's division one fixture while Old Fort beat St Stanislaus 4-0 in a men's second division match.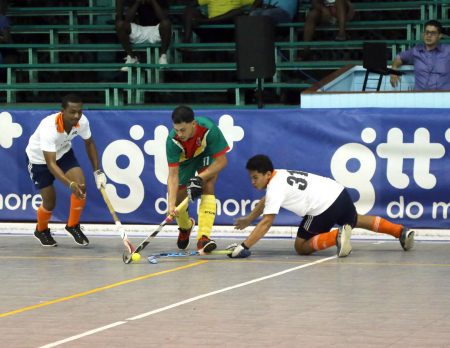 GCC Pitbulls and St. Stanislaus College played to a 2-2 stalemate in the second fixture of the men's second division while in the veterans' category, GCC and Hikers battled to a 3-3 result.
Complete Results
Men's 1st Division
Game-1
National Green-5 vs Bounty GCC-4
National Green Scorers
Aroydy Branford-4th, 5th and 38th
Aderemi Simon-26th
Jason DeSantos-34th
Bounty Scorers
Dwayne Scott-16th
Steven Xavier-27th
Orland Semple-32nd
Eric Hing-40th
Game-2
Saints-3 vs Hikers-6
Hikers Scorer
Shane Samuels-25th, 27th, 32nd, 36th, 37th and 40th
Saints Scorer
Parmanand Dindial-4th, 12th and 31st
Women's Division
Game-1
National Ladies-14 vs GCC Spartans-2
National Ladies Scorers
Nicole Eastman-5th, 7th and 37th
Aliyah Gordon-18th, 31st and 34th
Marzana Fiedtkou-20th and 27th
Latacia Chung-28th and 32nd
Kerensa Fernandes-35th and 36th
Maria Munroe-2nd
Minsodia Culpepper-15th
GCC Spartan Scorer
Abosaide Cadogan-12th
Kirsten Gomes-40th
Game-2
Pizza Hut GCC-5 vs Inet Lynx-0
Sonia Jardine-4th, 8th and 20th
Sandy Roopnarine-30th
Dominique DeGroot-32nd
Men's 2nd Division
Game-1
GCC Pitbulls-2 vs St. Stanislaus College-2
Pitbull Scorer
Meshach Sergeant-13th and 20th
St. Stanislaus Scorers
Troy Hodge-21st
Shakeem Faussette-27th
Game-2
Old Fort-4 vs Saints-0
Jason Clarke-15th, 16th and 19th
Stephan Sprosta-23rd
Veteran's Division
Game-1
GCC-3 vs Hikers-3
GCC Scorers
Philip Fernandes-13th
Patrick Edghill-23rd
Dwayne Scott-29th
Hikers Scorer
Devin Munroe-12th, 14th and 27th
Around the Web