Guyana's Priyanna Ramdhani yesterday lost her quarter-final singles match at the second South American Youth Games at the Centro de Entrenamiento Olimpico, in Santiago, Chile but is now the fourth ranked badminton youth player in South America.
Ramdhani had beaten Suriname's Erisa Bleau 21-4, 21-9 but lost to Peru's Micaela Flores Vasquez 9-21, 16-21 in her group matches.
She reached the quarter finals by defeating Chile's Mickaela Skaric Hott 21-7, 21-14 in her third group match but lost yesterday to Brazil's Sania Valeria Passos Lima 8-21, 4-21.
Incidentally, Passos Lima is now the number one ranked female youth badminton player in South America. She is followed by Fernanda Saponara Rivva of Peru, Micaela Flores Vasquez also of Peru and Venezuela's Tiffany Sanchez Lamas, who is joint four ranked with Ramdhani.
According to Gokarn Ramdhani coach of the two-member Guyana badminton team at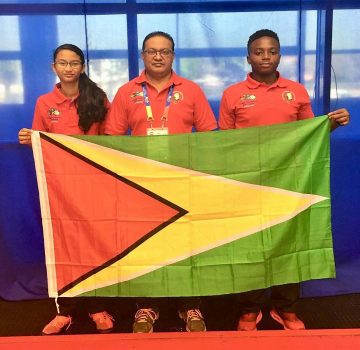 the games, she also teamed up with Tyrese Jeffrey and contested the mixed doubles category winning against Panama but losing to pairs from Brazil and Chile.
"Jeffrey played well also but needs more international exposure which will happen as he attends more tournaments," said the elder Ramdhani who is also president of the Guyana Badminton Association.
"The GBA is extremely happy with the performances of these two players who played their all especially in this cold condition and high altitude. "The GBA would also like to thank the Guyana Olympic Association for giving us this opportunity to be at this games and know that the experiences the players gained will benefit the future of Badminton in Guyana," the GBA president stated.
Guyana's hopes of winning their first medal at the games were also dashed when the table tennis team of Nickolus Romain and Miguel Wong went under to Peru 0-3.
Wong lost to Jhon Hernan Loli Casio  9-11, 7-11, 7-11,  Romain lost to Rodrigo Hidalgo Garcia Pacheco 9-11, 4-11, 2-11 and Wong/Romain lost the boys doubles to Casio/Pacheco 9-11, 9-11 4-11.
The Guyana team had beaten Uruguay 3-1 to reach the quarter finals with Romain losing 4-11, 7-11, 6-11 to Pablo Augustin Palou Singlet and Wong edging Singlet 3-11, 12-10, 3-11, 11-4 and 12-10 to make the 1-1.
Wong also beat Rodrigo Ivan Baez Nalla 8-11, 11-8, 9-11, 12-10, and 11-5 before they wrapped up the tie with a win over Singlet/ Nalla 12-10, 12-10, 11-13, 5-11, 12-10 in the doubles encounter.
In track and field Guyana's Jermaine King and Kennisha Phillips remained in medal contention by advancing to the semi-finals of the 100m although
Mark Solomon was eliminated.
Solomon clocked 11.43s in his 100m heat for sixth place.
King, though, clocked 11.01s to place joint second in his heat along with Ecuador's Mario Aguirre who also clocked 11.01s.
The race was won by Paraguay's Fabrizio Acquino.
The semi-finals will take place today.
Phillips will contest the girls 100m semi-final today while Deshauna Skeete will take part in the 200 metres today while Annalisa Barclay will take part in the girls triple jump in what is a virtual final today.
Around the Web