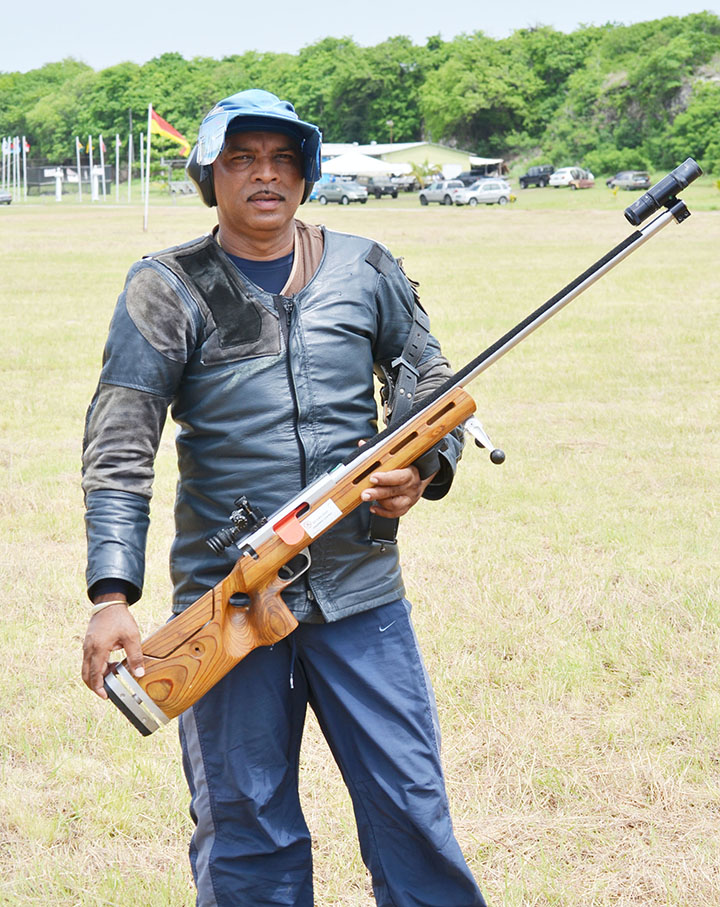 Guyana's fullbore captain Mahendra Persaud took an early lead in the 2017 West Indies Fullbore Shooting Council championships which got underway yesterday at the Timehri Rifle Ranges.
Persaud defied the hot conditions to end with a first day aggregate of 134 and 14 V bulls after competition in the 300, 500 and 900-yard ranges.
In close pursuit of Persaud is England's Nigel David Stangroom with an aggregate of 133 and 10 Vs while the evergreen and always dangerous Lennox Braithwaite of Guyana lies in third position with an aggregate of 132 and 13 V bulls. While Persaud and Braithwaite were expected to produce good performances the surprise package from a Guyana standpoint yesterday as the performance of Sherwin Felicien who ended the first day aggregate in sixth position with 128 and 11 v-bulls.
If Felicien's performance was encouraging, top shooter Ransford Goodluck's performance was disheartening ending with an aggregate of 125 and six v-bulls although to his credit Goodluck usually comes into his own in the longer distances.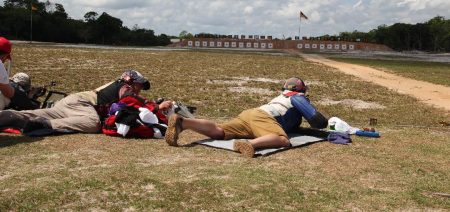 The competition which marks the 150th anniversary of the Guyana National Rifle Association has attracted shooters from Antigua, Bermuda, Trinidad and Tobago, Barbados, Jamaica, the Falkland Islands, the United States, Britain, Ireland and Scotland.
Persaud started off slowly shooting a 34 with two Vs at 300 yards. That effort was only good enough for joint seventh. He then shot a possible 50 with six V-bulls at 500 yards and another possible 50 with six more V-bulls at 900 yards. David Calvert and Guyana's Sherwin Felicien were the top shooters at 300 yards with identical scores of 35 and five v-bulls while Persaud and Charlotte Alice Staples of England were the winners at 500 yards with scores of 50 and six V-bulls respectively.
Not to be outdone Persaud topped the 900-yard shooting while Brathwaite was second with 50 and five V-bulls and Stangroom third with 50 and four V-bulls.
The individual competition will continue today with action at 500, 600 and 900 yards.
The individual competition ends on Wednesday while on Thursday the top 34 shooters will be compete in one detail to determine the 150th anniversary champion. Friday will be a rest day and the shooters will return to action on Saturday and Sunday in the long and short range events. At stake in the long range team event which is sponsored by Milex/Crown Mining will be the Queensway Trophy while International Safety Supplies Limited Trophy will be at stake in the short range competition.
Around the Web