Minister of Social Cohesion with the responsibility of Culture, Youth and Sports, Dr. George Norton is hoping to build an interpersonal relationship with the nation's athletes.
Dr. Norton made the disclosure Friday in the boardroom of the Department of Culture on Main Street during a courtesy call by Guyana's contingent of athletes, who represented the country at the second South America Youth games in Santiago, Chile recently.
According to Dr. Norton, Guyana was proud of the achievements of the athletes adding that his ministry will commit to doing all that it can to support the team and other athletes in their future endeavours.
"The Ministry would do all it can to support athletes particularly in regards to offsetting the expenses [for those who are] pursuing their academics would entail and in whatever way we could do to make their lives more comfortable and successful in their endeavours," the Minister said.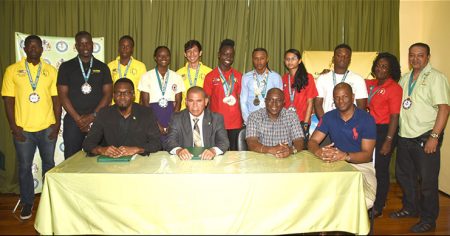 He praised the athletes for their outstanding performances at the continent's most prestigious and competitive championships.
Those present and honoured with the National Sports Commission Award included Miguel Wong and Nickolus Romain, Keevin Allicock, Priyanna Ramdhani, Tyrese Jeffery, Annallisa Barclay and Deshana Skeete who brought home the gold medal in the 400 metre event. Dr. Norton said he was hoping for a better relationships with the athletes.
"This is why I decided to meet the athletes; I must know who they are and be able to recognise them… There must be a better relationship between the Minister of Sport and the athletes," the Minister said, explaining that he was out of the jurisdiction when the team returned to Guyana on Tuesday.
The coaches for athletics, boxing, table tennis, badminton and basketball, which were the disciplines in which athletes represented Guyana, were also recipients of the NSC awards.
Gold medallist Skeete, said that she was very excited to compete for Guyana internationally and is more so proud and elated when she ran and copped gold in the 400 metre event. According to the young athlete, she wishes to continue competing as she has hopes to make it to the Olympics one day.
The second South America Youth Games involved student/ athletes between the ages of 14-17 from 14 countries in South America. The team that represented Guyana departed for Santiago, Chile on September 26 and returned last Tuesday.
Director of Sport, Christopher Jones, Deputy Permanent Secretary of the Ministry of Social Cohesion, Steve Ninvalle and Vice President of the Guyana Olympic Association, Godfrey Munroe were all present.
Around the Web