FLORENCE HALL, Jamaica, CMC — West Indies "A" leg-spinner Damion Jacobs said he was looking forward to the challenging of bowling at the Sri Lanka "A" batsmen again in the second "Test" which starts tomorrow at the Trelawny Multiplex.
Jacobs earned the Player-of-the-Match award following a match haul of eight wickets, including six in the Sri Lankans' second innings, which catapulted Windies "A" to an innings-and-13-run victory in the weather-affected match which ended on Saturday at the same venue.
"They are very attacking against the spinners," he said. "They try to take charge of the spinners as quickly as possible, so as a spinner it was important to hold my ground and don't try too much.
"As a leg-spinner however, it's always a great battle when you have batsmen willing to come after you, but it is my intention to be successful. I know will try to be aggressive again in the second match and I will have to be prepared for it."
Jacobs said home advantage played a part in the opening victory and the home team adapted more quickly to the conditions than the Sri Lankans.
He conceded however, it was not smooth sailing for him, due to the rain that fell during the game making conditions a little bit more difficult, but he tried to remain professional.
"It stayed dry enough, long enough, for me to make the most of it," said Jacobs. "It was good reward for the hard work that I have been putting in over the last 12 to 16 months.
"It was all about knowing my role. Knowing when to attack. Knowing when to be defensive. Understanding the conditions and doing whatever the captain wanted me to do at any point in time in the match."
He added: "I have taken a lot of confidence from it. I have been bowling well for the last 12 months or so. I also bowled well in a tour match last year against Pakistan and they are also a side that handles the spin well, so it shows that the hard work that I have put in is beginning to pay off.
"To be consistent. That is the aim. To know my role and perform my role. Knowing what I have to do and just doing it, sticking to the plan. I spoke to the coach before the game and we talked about understanding the role I have to play. Knowing when it is my time and when it is not my time. Bowling in tandem with someone like Rahkeem Cornwell. He is an attacking bowler. Knowing that I had to keep things going at my end."
Jacobs cautioned his teammates that this was no time to relax, since they still had to win another match and reverse the result of the corresponding series last year in Sri Lanka.
"We have to be consistent," he said. "There is no other way to do it. We batted pretty well in the first game and we bowled pretty well. We have got to come and do it again — and better. We just have to stick to the game plan and continue to work hard.
"Many of us were in Sri Lanka last year, when we lost that 'Test' series. We know what it felt like to lose and we don't want to have that feeling again. They have come to the Caribbean and we want to win, so that we can inflict upon them what we went through over there. We know it would be a major boost for us and West Indies cricket"
Comments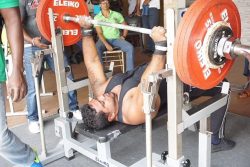 National powerlifters, John 'Big John' Edwards, Colin 'Mr Clean' Chesney and Jacqueline Toney were among the participants who chalked up their hands and competed in yesterday's bench press showdown at the 704 Sports Bar Sky Lounge.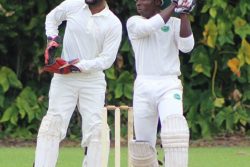 The Police Sports Club (PSC) continued their impressive run in this year's Noble House Seafoods second-division, two-day tournament, after compiling 323 before being dismissed on the stroke of stumps on day one in their final group match against the University of Guyana (UG) at the Gandhi Youth Organization ground, yesterday.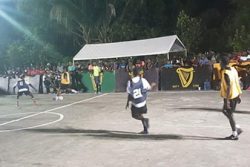 NK Ballers, Silver Bullets, Wisroc, Swag Entertainment, Assassa Ballers and Cherokee Park secured wins when the Guinness 'Greatest of the Streets' Linden Championship continued on Friday.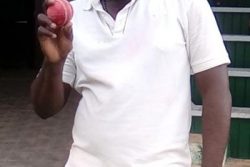 cbagged 6-51 as Gandhi Youth Organization (GYO) restricted the Guyana Defence Force (GDF) to 151 all out in their first innings of the Georgetown Cricket Assoc-iation/GISE/Star Party Rental/Trophy Stall first-division, two-day tournament at the GDF ground, Camp Ayanganna yesterday.