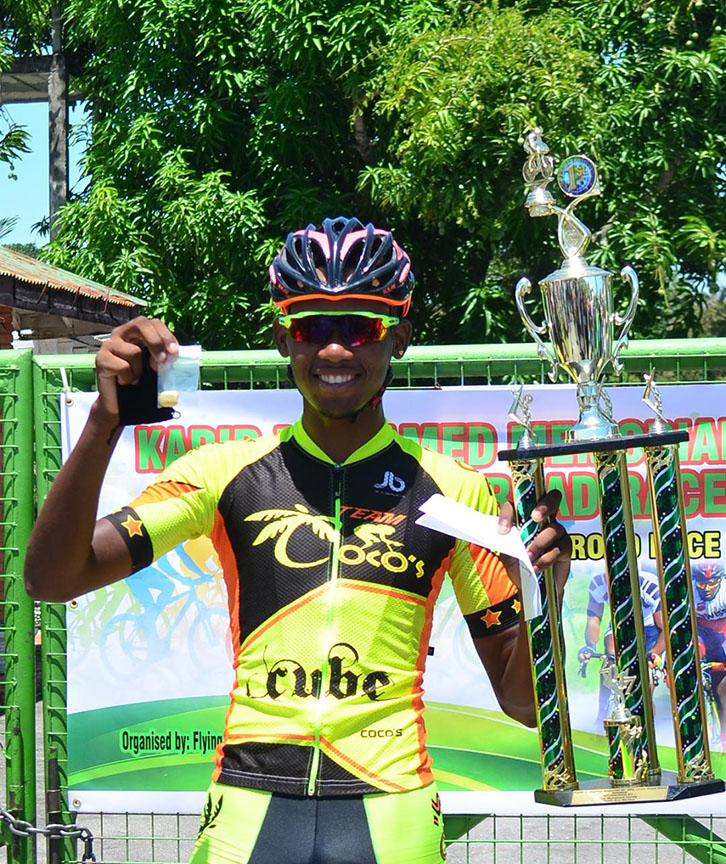 Add an ounce of Guyana's world famous gold to Jamal John's collection of awards.
The season's most successful wheelsman showed once again on Sunday why he is atop the leaderboard on the local circuit by winning the Kadir Mohamed Ounce of Gold road race.
In the sixth edition of the grueling 80-mile race which was staged from Homestretch Avenue to Dora and back, John took the spoils in three hours, 13 minutes and six seconds.
The tireless 20-year-old national rider bested his breakaway mates and fellow podium dwellers Raynauth Jeffrey and Orville Hinds in that order.
On the downward journey, Jeffrey and Hinds attacked the peloton. Soon after, John joined the party and the strong trio teamed up to dominate the race until they reached the final turn. At this point, teamwork was thrown out the window when John rose from his saddle and changed gears.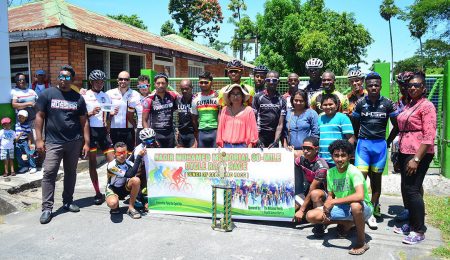 With just enough gas left in the tank, the Team Coco's standout went on to chalk up his 10th pole finish of the 2017 season by about 25 meters ahead of Jeffrey who outsprinted Hinds.
Shaquel Agard got the better of the remnants of the peloton while Geron Williams placed fifth and Paul DeNobrega finished sixth. Alonzo Ambrose and Christopher Griffith filled out the top eight rewarding positions.
In other results, Curtis Dey won the junior category ahead of Nigel Duguid, Christopher Cornelius and Marcus Keiler, respectively.
Other winners on Sunday included Jonathan Ramsuchit (juvenile), Junior Niles (veteran under 45), Ian Jackson (veteran over 45) and Jude Bentley (Mountain Bike).
Around the Web