The meeting of Caribbean Boxing Presidents held here last Saturday at the National Resource Centre was a huge success that ended with cemented CARICOM unity.
According to Chairman of the meeting, Steve Ninvalle, there were unanimous agreements on all matters discussed and the Region now speaks with a louder unified voice.
Eight countries were represented at the meeting which was called to discuss the present crisis affecting the amateur sports' governing body, AIBA and the way forward.
AIBA's President Dr. Ching-Kuo Wu of  Taiwan and an Interim Management Committee (IMC) established in July are in a bitter power struggle to see who has the right the govern the amateur sport, the body ultimately in charge of all junior and senior amateur boxing.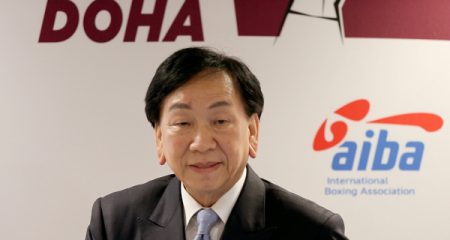 Wu who has been in charge of AIBA for eleven years is currently accused of financial miss-management and using AIBA for personal gain. It was recently reported that 76 major boxing nations have voiced their support to the IMC, nations which include powerhouses, France, U.S.A, Germany, Russia and Kazakhstan to oust president Wu.
Said Ninvalle who recently was named a member of AIBA's EC Bureau "We met as a body and it was an extremely productive meeting. We had to get a meeting to strategize our approach to this crisis and to chart the Region's forward."
In addition, the meeting was attended by AMBC (Americas Boxing Confederation) top brass in President Osvaldo Bisbal and Executive Director Hernan Salvo both of Argentina. The two made presentations to the Caribbean representatives. Ninvalle would not say how convincing the presentations were but declared that a public announcement will follow after a report was circulated to the absent Caribbean territories
He added, "The Region is not anti-Wu (suspended AIBA president), anti-Interim Management Committee or anti-AMBC, but rather pro Caribbean." (Emmerson Campbell)
Around the Web