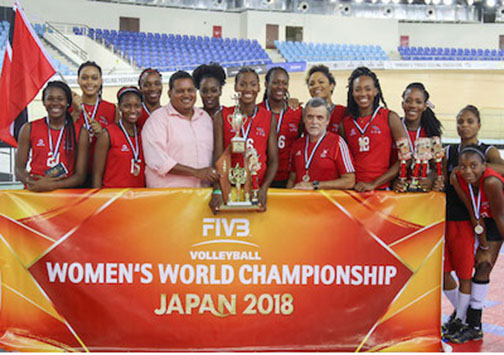 PORT OF SPAIN, Trinidad, CMC – Though Mexico's outside hitter Samantha Bricio was acclaimed the Most Valuable Player, Trinidad & Tobago collected the lion's share of the awards at the conclusion of the NORCECA Group C Women's World Championship qualifying tournament on Sunday.
Outside hitter Channon Thompson stood out with three awards. She impressed with her powerful kills and serves earning the awards for Best Scorer and Best Server, along with the First Best Spiker award. Darlene Ramdin finished as Second Best Spiker, Sinead Jack was the First Best Blocker, T&T captain Krystle Esdelle was the Best Opposite and libero Afesha Olton of T&T was the Best Digger of the event.
T&T became the first-ever country from the English-speaking Caribbean to qualify for a Women's World Championship.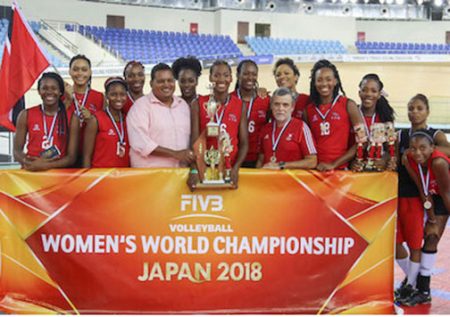 "We have dreamed with this for a long time," said T&T Women's head coach Francisco Cruz. "Hopefully, this achievement generates more support to our programme from the government and the private agencies.
"Our programme has been designed to Japan 2018 and getting the ticket comes as a big prize for all the girls who have struggled to keep playing volleyball through the years."
The Calypso Girls, as they are known among their peers in the CAZOVA region of NORCECA, forced the more experienced Mexico to a tie-breaker in the final match of the qualifier before succumbing in the match to decide the supremacy in Group C qualifier to Japan 2018.
Comments

(Reuters) Three USA Gymnas-tics board members resigned yesterday in the wake of its former team physician sexually abusing female gymnasts, a step the organization said would support its reform efforts.

(Reuters) – The presidents of world soccer and world athletics are set to be snubbed by the International Olympic Commit-tee (IOC) next month when the body is likely to again overlook them for membership, a source told Reuters yesterday.

BRIDGETOWN, Barbados, CMC – The Vivian Richards Cricket Stadium in Antigua will host the final of the Women's Twenty20 World Cup later this year, the International Cricket Council confirmed yesterday.

By Charwayne Walker When Tagenarine Chanderpaul reached three figures against Barbados at the Kensington Oval in the ninth round of the Cricket West Indies Digicel-sponsored Regional four day championships earlier this month, the son of the legendary Shivnarine Chanderpaul had placed himself and his father on an elite fathers and sons list who had the distinct honour of scoring a century at the Regional First Class Level.

By Romario Samaroo Guyana Jaguars Head Coach, Esaun Crandon said Sunday that excellent preparation and planning were the factors mainly responsible for the Guyana Jaguars winning the just-concluded Cricket West Indies (CWI) Digicel Regional four-day competition.