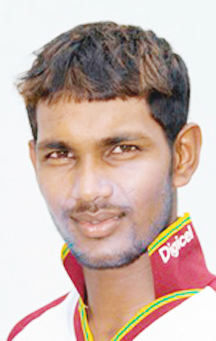 All eyes will be trained today on Kensington Oval, Barbados here where Barbados Pride welcome perennial arch-rivals Trinidad and Tobago Red Force, on the opening day of the new Regional four-day season according to the Caribbean Media Corporation (CMC).
Today's Oval encounter will be a pink/ball affair starting at 2 pm, adding to the attraction of the first round of matches with  defending champions Guyana opposing the Jamaica Scorpions at the National Stadium in Providence in the opening match at 9.30am.
In the other game, Windward Islands Volcanoes will battle with neighbours Leeward Islands Hurricanes at the National Stadium in Grenada starting at 10 am.
With both the West Indies Test and A sides on duty, several teams will be missing their stars, opening up the opportunity for several players to make their mark.
Pride captain Kevin Stoute said they had grown accustomed to the absence of the Test stars but had always compensated because of the depth of the squad.
"Most of those guys have been in and out over the last two seasons and we have still been able to come second, which I think it is a very good sign because it shows that we have a lot of depth when it comes to players who are capable of playing at the first-class level," the all-rounder explained.
"We can't dwell too much on it and must think about what we have to do as a team."
Trinidad and Tobago Red Force captain, Denesh Ramdin.
His opposite number, former Test wicketkeeper Denesh Ramdin, said though some of the main players were missing, the focus over the next few days would be on execution.
"There is always big rivalry when we play them, but we are playing in their backyard which gives them an advantage, so it is important for us to play well," said Ramdin, who will be suiting up for his first first-class match in nearly two years.
"With a number of our senior players away, we have a number of young players, so it will be a good match-up."
He added: "It was very good for a young team to come last season and beat Barbados. It is still fresh in the memories of the players that played that game. I am looking forward to helping them do it again, so hopefully we can execute in our batting, bowling and fielding."
Scorpions have been robbed of champion left-arm spinner and captain Nikita Miller due to injury while Chadwick Walton has overseas commitments, and John Campbell, Andre McCarthy, Reynard Leveridge and Oshane Thomas, are all tied up with Windies A.
Batsman Paul Palmer, who will skipper the side, said the focus would be on making the most of the players who were available.
"There is no way to replace a player like Nikita Miller. He's the kind of player that you cannot replace overnight because he has done a lot and bowled us to victory many times previously," he explained.
"We however, have to remain positive about what is before us and try not to focus his absence or the absence of other players. We still have a game to play and we will have to use our resources well to get the outcome we want."
SQUADS:
PRIDE – Kevin Stoute (captain), Anthony Alleyne, Jonathan Carter, Shakeem Clarke, Justin Greaves, Aaron Jones, Shayne Moseley, Ashley Nurse, Mario Rampersaud, Shamar Springer, Hayden Walsh, Jomel Warrican, Kenroy Williams.
RED FORCE – Denesh Ramdin (captain), Bryan Charles, Akeal Cooper, Amir Jangoo, Imran Khan, Ewart Nicholson, Khary Pierre, Roshon Primus, Isaiah Rajah, Marlon Richards, Jeremy Solozano, Daniel St. Clair, Tion Webster.
VOLCANOES – Tyrone Theophile (captain), Audy Alexander, Gian Benjamin, Roland Cato, Kirk Edwards, Tarryck Gabriel, Kavem Hodge, Delorn Johnson, Sherman Lewis, Kyle Mayers, Obed McCoy, Liam Sebastien, Shane Shillingford.
HURRICANES – Devon Thomas (captain), Elvin Berridge, Nkrumah Bonner, Jason Campbell, Keacy Carty, Chesney Hughes, Jeremiah Louis, Mervin Matthew, Akeem Saunders, Stanny Simon, Jacques Taylor, Gavin Tonge, Terrence Warde.
Around the Web