Add another first place trophy to Geron Williams' collection. Six days after winning the Digicel Breast Cancer Awareness Road Race, the national cyclist took his talents to the National Park yesterday and sprinted off with the spoils of the feature 35-lap event of the Payless Variety Store criterium programme.
Williams, who seems to be peaking this late in the season, was in record-breaking form yesterday. In perfect conditions for racing, the Team Foundation rider who campaigns mostly on the US circuit, stopped the clock in an eye-popping one hour, 12 minutes and 35 seconds to emphatically erase the previous record (one hour and 14 minutes) set by Kemuel Moses.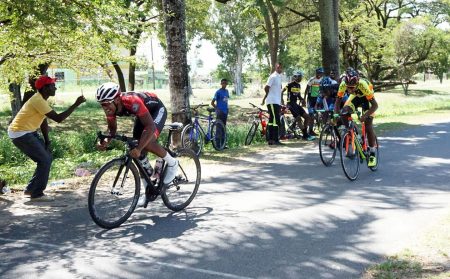 Besides the winner's trophy, Williams also took home two of the eight sprint prizes.
In a fierce sprint finish, he led Jamal John by two bike lengths, while Silvio Innis occupied the last podium spot.
Paul DeNobrega, Chris Griffith and Curtis Dey filled out the top six rewarding positions.
Other category winners yesterday were: Jaheme Henry (BMX 9-12 years), Marvin Knight (BMX 12-14 years), Jonathan Ramsuchit (12 to 14 BMX Boys and Girls), Junior Niles (Veterans U-50), Dey (Juveniles), Nigel Jacobs (Mountain Bikes) and Jared Barrington (BMX 6-9 years).
Williams, along with the other winners yesterday, will have a chance to add to their trophy collection today when the Powerade 50-mile road race is staged this morning from 08:00hrs at West Demerara.
Around the Web