TAROUBA, Trinidad,  CMC – Fabian Allen's superb unbeaten hundred and seamer Derval Green's lethal burst rattled Trinidad and Tobago Red Force and put Jamaica Scorpions firmly in control of their second round encounter of the Regional four-day championship here yesterday.
Allen stroked a career-best 169 not out as Scorpions converted their overnight 246 for four into an intimidating 432 all out in their first innings on the second day of the contest at the Brian Lara Stadium.
Brandon King missed out on his maiden first class hundred when he perished for 98, and Green (29) and Dennis Bulli (28) both chipped in down the order to add to Red Force's frustration.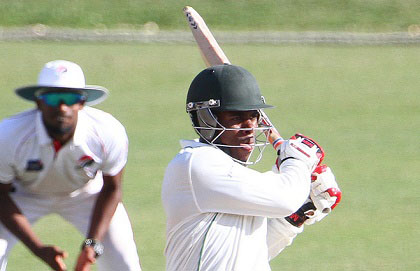 Off-spinner Bryan Charles was the best bowler with three for 64 while fast bowler Roshon Primus (2-69) and leg-spinner Imran Khan (2-127) supported with two wickets apiece.
In reply, Red Force were floundering at 38 for four before Yannic Cariah carved out an unbeaten 52 and Tion Webster, 49 not out, to steer the hosts to 133 for four at the close.
They trail by 298 runs heading into today's third day.
Resuming the day in a strong position, Scorpions benefited early on as King, unbeaten overnight on 91 and Allen, 80 not out at the start, added a further 34 runs to extend their fifth wicket stand to 195.
However, King failed to reach three figures when he was lbw to pacer Marlon Richards nearing the first hour.
There was no such misfortune for Allen, however, as he completed his maiden first class hundred while inspiring successive half-century stands with Green and Bulli.
He put on 51 for the sixth wicket with Green who struck two fours and a six in a 52-ball knock, before adding 54 for the seventh wicket with Bulli who faced 59 deliveries and counted four boundaries.
All told, the 22-year-old right-handed Allen – in only his sixth first class match – struck 16 fours in an innings spanning 279 balls and just under 6-1/2 hours.
Facing a tall order, Red Force were quickly in trouble at 19 for two as they lost openers Jeremy Solozano (1) and Amir Jangoo (13) both to catches by Allen, as Green and new-ball partner Jason Dawes made quick inroads.
And when Green knocked over Ewart Nicholson (2) and captain Denesh Ramdin (12) in quick succession, the Red Force innings was in turmoil.
But Cariah and Webster came together in a crucial unbroken fifth wicket stand of 95 which propped up the innings.
The left-handed Cariah stroked eight fours in a 107-ball knock that consumed nearly 2-3/4 hours while Webster hammered eight boundaries off 88 balls.
SCOREBOARD
SCORPIONS 1st innings
(overnight 246 for four)
T Griffith c Nicholson b Charles                            21
G Garvey c wkp Jangoo b Primus                            1
A Fudadin lbw b Webster                                       18
B King lbw b Richards                                           98
*P Palmer lbw b Primus                                         21
F Allen not out                                                     169
D Green c wkp Jangoo b Imran Khan                      29
D Bulli run out                                                       28
+R Morris c Imran Khan b Charles                         12
J Dawes c wkp Jangoo b Imran Khan                        2
P Harrison c Primus b Charles                                 13
Extras (b14, lb3, w2, nb1)                                     20
TOTAL (all out, 140.3 overs)                              432
Fall of wickets: 1-2, 2-40, 3-44, 4-85, 5-280, 6-331, 7-385, 8-401, 9-406, 10-432
Bowling: Richards 14-1-45-1, Primus 20-4-69-2, Charles 25.3-4-65-3, Webster 10-0-34-1, Imran Khan 40-7-127-2, Pierre 31-5-75-0.
RED FORCE 1st innings
J Solozano c Allen b Green                                      1
+A Jangoo c Allen b Dawes                                   13
Y Cariah not out                                                    52
E Nicholson c wkp Morris b Green                              2
*D Ramdin c Palmer b Green                                  12
T Webster not out                                                  49
Extras (lb1, nb3)                                                    4
TOTAL (4 wkts, 39 overs)                                  133
Fall of wickets: 1-1, 2-19, 3-22, 4-38.
To bat: Imran Khan, B Charles, M Richards, K Pierre, R Primus.
Bowling: Dawes 10-1-36-1, Green 12-2-36-3, Garvey 1-0-11-0, Harrison 8-1-18-0, Bulli 6-0-24-0, Allen 2-0-7-0.
Position: Red Force trail by 299 runs with six first innings wickets remaining.
Toss: Red Force.
Umpires: J Wilson, D Butler.
Around the Web