GROS ISLET, St Lucia, CMC – Left-hander Vishaul Singh turned the page on his recent ordinary form for West Indies A by stroking his seventh first class hundred, as three-time reigning Regional champions Guyana Jaguars snatched the advantage on day two of their second round encounter against Windward Islands Volcanoes.
The visitors piled up 357 in their first innings yesterday at the Darren Sammy Cricket Ground to lead Volcanoes by 206 runs, with Singh gathering a typically controlled 119 and wicketkeeper Anthony Bramble missing out on three figures with 90.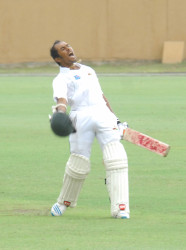 Sherfane Rutherford, batting at number eight, smashed an entertaining 51. Left-arm seamer Obed McCoy grabbed three for 56 on first class debut while off-spinners Tyrone Theophile (2-48) and Shane Shillingford (2-67), along with pacer Sherman Lewis (2-81) were all among the wickets.
Volcanoes then found themselves in early trouble when experienced opener Devon Smith fell without scoring, pulling a short ball from fast bowler Keon Joseph to be caught square on the on-side by Rutherford, with only 10 runs on the board in the third over of the innings.
Theophile, however, counter-attacked, striking five fours and a six in a 46-ball unbeaten 36, putting on 44 for the second wicket with Kirk Edwards who was not out on 12.
Heading into today's penultimate day, Volcanoes require another 154 runs to make Jaguars bat again.
Starting the day tentatively placed on 117 for four, the visitors took control of the encounter courtesy of Singh and Bramble who extended their overnight fifth wicket partnership to 174 before being separated.
Vishaul, resuming on 34, faced 252 deliveries and struck 11 fours while Bramble, on 13 not out at the start, faced 168 balls overall and counted 10 fours.
Once Bramble fell, Jaguars lost wickets steadily with four tumbling for 55 runs runs, with Singh seventh out at 301.
Rutherford, however, arrived to lash six fours and four sixes in an enterprising 59-ball innings as the tail wagged albeit briefly.
Scoreboard
VOLCANOES 1st innings 151
JAGUARS 1st innings
(overnight 117 for four)
T Chanderpaul c McCoy b Lewis                               1
R Chandrika c Jordan b Lewis                                   0
C Hemraj c Benjamin b Shillingford                        50
*L Johnson c Benjamin b McCoy                              7
V Singh c Hodge b Theophile                                119
+A Bramble c Cato b Jordan                                   90
K Paul c McCoy b Theophile                                    3
S Rutherford c Alexander b McCoy                         51
R Shepherd lbw b Shillingford                                  7
V Permaul c Benjamin b McCoy                               3
K Joseph not out                                                      0
Extras (b4, lb8, w10, nb4)                                     26
TOTAL (all out, 104 overs)                                  357
Fall of wickets: 1-1, 2-6, 3-33, 4-88, 5-263, 6-284, 7-301, 8-318, 9-353, 10-357.
Bowling: Lewis 22-2-81-2, McCoy 15-2-56-3, Jordan 16-1-61-1, Shillingford 30-9-67-2, Alexander 11-0-32-0, Theophile 10-2-48-2.
VOLCANOES 2nd Innings
D Smith c Rutherford b Joseph                                 0
T Theophile not out                                                36
K Edwards not out                                                  12
Extras (b3, w3)                                                       6
TOTAL (1 wkt, 15 overs)                                      54
Fall of wicket: 1-10.
Bowling: Joseph 4.5-2-15-1, Shepherd 4-1-19-0, Hemraj 1.1-1-1-0, Paul 2-0-10-0, Permaul 3-2-6-0.
Position: Volcanoes trail by 152 runs with nine second innings remaining.
Toss: Jaguars.
Umpires: Z Bassarath, C Tuckett.
Around the Web