Topp XX crushed High Stars 4-1 when the Upper Demerara Football Association (UDFA) 2017/2018 Senior League, continued Friday at the Mackenzie Sports Club (MSC) ground, Linden.
A combination of youth and experience secured the win for the home side as veteran midfielder Travis Watterton along with   Deon Charter and Tariq Williams, were the goal scorers.
Watterton tallied a double in the 30th and 70th minute while Charter and Williams found the back of the net in the 13th and 20th minute respectively.
On target for High Stars was Keano Lowe in the 40th minute. With the win, Topp XX moved into second position on three points due to their superior goal difference.
For High Stars, it was their second consecutive defeat and they remain in seventh place without a point.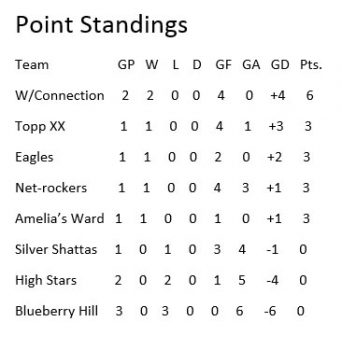 Meanwhile, Eagles gained a walkover from cellar occupant Blueberry Hill and now sits in third position.
The event resumes today at the same venue with another doubleheader. At 19:00hrs, Amelia's Ward will oppose Silver Shattas while Botafogo will engage Netrockers at 21:00hrs.
The top four finishers in the tournament will walk away with trophies and cash incentives.
Game-1
Topp XX-4 vs High Stars-1
Topp XX Scorers
Travis Watterton-30th and 70th
Deon Charter-13th
Tarique Williams-20th
High Star Scorer
Keano Lowe-40th
Game-2
Eagles vs Blueberry Hill
Eagles won via walkover
Around the Web