Guyana's hopes of excelling at the Caribbean Development Boxing tournament now rests on the shoulders of young but competent pugilists, Keevin Allicock, Colin Lewis, Joel Williamson and Desmond Amsterdam.
Down from a projected full strength 13-man team, the four boxers will be tasked with flying the Golden Arrowhead high at the four-night event which got underway last evening in St Lucia.
Team Guyana, the two-time winners of the fixture which started in 2015, was aiming for a three-peat, but the lack of adequate funding forced the Guyana Boxing Association (GBA) to select the team based on the funding that was accumulated.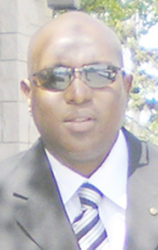 According to President of the Association, Steve Ninvalle, the selection of the four boxers was based on a priority list.
Allicock (bantamweight), Lewis (light welterweight), Williamson (lightweight) and Amsterdam (middleweight) were all gold medalist at the second event which was staged in Barbados last December. They are all national champions in their respective divisions.
The flashy bantamweight standout, Allicock recently won the best boxer award at the recent National Open Championships. His latest success in the ring came in the aftermath of boxing his way to a silver medal at the Commonwealth Youth Games earlier this year.
Guyana will most likely be unseated as champions but Ninvalle is confident of the four boxers returning with hardware.
He thanked the Guyana Olympic Association, the National Sports Commission and the Guyana Defence Force for their support in making the sojourn possible.
The boxers will be coached by Technical Director of the GBA, Terrence Poole while Lawrence Assannah of the GDF will sit one-star examinations for the Referee/Judges Course.
Said Ninvalle "I applaud the efforts of Brigadier West for enabling one from GDF to participate in the one star course, Assannah would be the first from the GDF to hold such a title once successful.
According to Ninvalle, teams from Antigua, Grenada, Trinidad, Barbados Guadeloupe, Martinique, French Guiana, St Vincent, Guyana and the host will compete at this year's tournament.
Around the Web