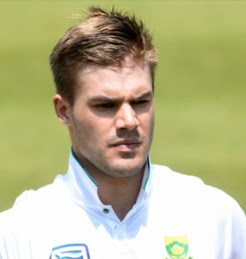 PORT ELIZABETH, (Reuters) – Aiden Markram scored a second century in his third test as South Africa moved on to 251 for four on the first day of the one-off day-night test against Zimbabwe at St George's Park yesterday.
But AB de Villiers' return to the test arena after an almost two-year hiatus ended in disappointment when he was caught and bowled for 53 just as he started accelerating and promised another characteristically flamboyant innings.
Markram scored 125 before being caught behind by wicketkeeper Brendan Taylor off Kyle Jarvis just before the dinner break, leaving Temba Bavuma not out on 35 after the first two sessions of the first ever four-day test.
Christopher Mpofu snared De Villiers with an athletic catch after earlier taking the equally prized wicket of Hashim Amla for five.
Dean Elgar (31) was the first South Africa dismissed after an opening partnership of 72 with Markram, when he chipped the ball to mid-wicket and was caught by Peter Moor off Jarvis.
Markram, who made a promising debut against Bangladesh in Septem-ber, reached his century off 175 balls.
De Villiers, who had not played a test since early 2016 as he concentrated on limited-overs cricket, quickly reached his half century off 62 balls.
It was his 40th test fifty but he was out three deliveries later as Mpofu took a fine catch after De Villiers checked his shot and hit the ball straight back to the bowler.
De Villiers stepped in as captain when Faf du Plessis pulled out through illness and won the toss as South Africa look for a good showing before three home tests against top-ranked India next month.
Scoreboard
South Africa 1st innings
D.Elgar c Moor b Jarvis 31
A.Markram c Taylor b Jarvis 125
H.Amla c Moor b Mpofu 5
A.de Villiers c&b Mpofu 53
T.Bavuma not out 35
Extras (lb-1 w-1) 2
Total (for 4 wickets, 65.3 overs) 251
Fall of wickets: 1-72 D. Elgar,2-77 H. Amla,3-173 A. de Villiers,4-251 A. Markram
South Africa: Q. de Kock, V. Philander, A. Phehlukwayo, K. Maharaj, K. Rabada, M. Morkel Bowling K. Jarvis 13.3 – 2 – 38 – 2 B. Muzarabani 11 – 2 – 43 – 0 C. Mpofu 12 – 1 – 49 – 2(w-1) C. Chibhabha 8 – 1 – 32 – 0 G. Cremer 16 – 0 – 63 – 0 S. Raza 5 – 0 – 25 – 0
Referees Umpire: Richard Kettleborough
Umpire: Paul Reiffel
TV umpire: Michael Gough
Match referee: Chris Broad
Around the Web