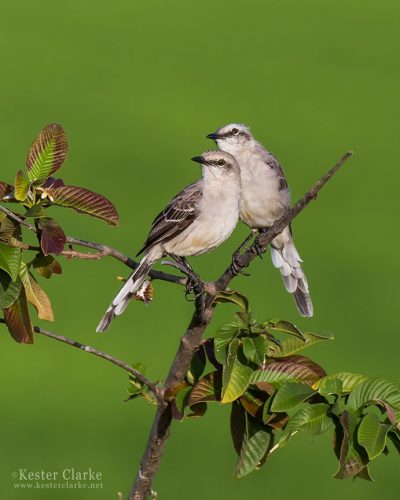 The Tropical Mockingbird (Mimus gilvus) is a resident breeding bird from southern  Mexico south to northern Brazil, and in the Lesser Antilles and other Caribbean  islands.
Adults are grey on the head and upper parts with yellow eyes, a white eye stripe and dark patch through the eye. The underparts are off-white, and the wings are blackish with two white wing bars and white edges to the flight feathers. They have long dark tails with white feather tips, slim black bills with a slight downward curve, and long dark legs.
Tropical mockingbirds forage on the ground or in vegetation or fly down from a perch to capture invertebrates. They mainly eat insects and some berries. These fearless birds will also take food off unattended plates or tables.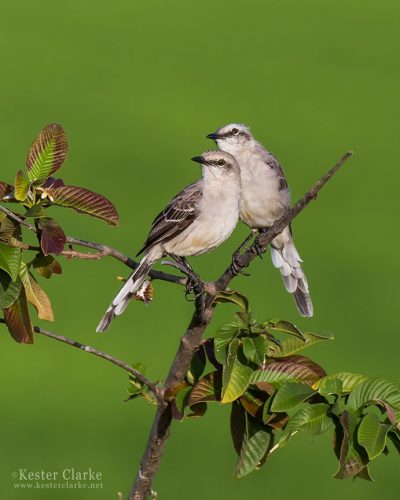 Comments

The Striped Cuckoo (Tapera naevia) is found in open country from Mexico to Trinidad  south Bolivia and Argentina.

The Yellow-breasted Flycatcher (Tolmomyias flaviventris) is distributed, in a wide variety of forest types, across much of northern and central South America, from northern Colombia and Venezuela, as well as in Trinidad and Tobago, south to the Atlantic coastal forests of eastern Brazil.

The Black-collared Hawk (Busarellus nigricollis) is a species of bird of prey. It is found in South and Central America and Trinidad and Tobago.

The Bat Falcon (Falco rufigularis) is a resident breeder in Mexico, Central and South America and Trinidad and Tobago.

The Yellow-crowned Tyrannulet (Tyrannulus elatus) is inconspicuous, except for its voice. These small flycatchers are common and widespread in humid lowlands, where they occur in river edge and disturbed forest, at forest edges, and clearings.