Majek Fingers Drumming School will be hosting its seventh annual drumming circle on January 15, at the Botanical Gardens.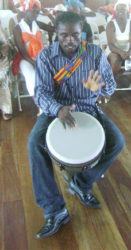 Being held under the theme 'Feel the Rhythm of the Drums Drumming Circle' the event is slated to commence at 3 pm and is billed as "an excellent opportunity to showcase the African cultural heritage, the skills and talents of citizens…"
According to a release from the school the drumming circle is based on community building and will showcase unity of the art and the people.
Majek Fingers was founded by Orlando Primo in 2010 with the mission to provide "a culturally focused educational support to the Guyanese music community."  Its primary objectives are to provide an understanding of cultural behaviours and cultural transformation and helping to sustain the dying musical art of drumming.
Around the Web