The search is on for the cutest baby 18 months and younger in Guyana through a photograph competition organized by GEM magazine in collaboration with Pampers baby diapers, solely distributed in Guyana by ANSA McAL Trading Limited.
The annual competition, titled 'Cutest Baby Photo Contest, started in in 2014 and according to a release from GEM the contest has "grown tremendously, since the requirements to participate are minimal and the Facebook phase garners much attention."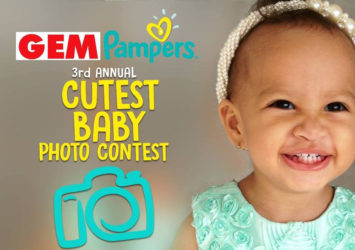 A release from the magazine stated that to be eligible the child must be a resident of Guyana and be present if they are among the top ten finalists collecting prizes. Unlike other years two photographs must be submitted.
According to the release the 1st prize will include a cover appearance on GEM along with six months' supply of Pampers baby diapers.  The ten finalists will be featured in the magazine and receive a hamper full of goodies, compliments of Pampers.
Interested parents or guardians are asked to submit two high quality photos one for the competition and another with the baby posing with any Pampers product. They would also have to submit the baby's name, nickname, birth date, gender, birth weight, favourite toy, favourite baby food, parents' names, Godparents' names and contact information to baby @gemmagonline.com.
"Finalists will be chosen based on poise, quality of picture, completeness of the required information and the most 'likes' from the Facebook phase of the contest. Each child will be judged by a closed panel of judges comprising of representatives from the sponsors," the release said.
The submission deadline is midnight of Friday April 7, 2017. For more information on the contest rules, terms and conditions persons are asked to send enquiry to baby@gemmagonline.com and keep checking the media and Facebook for updates.
Around the Web