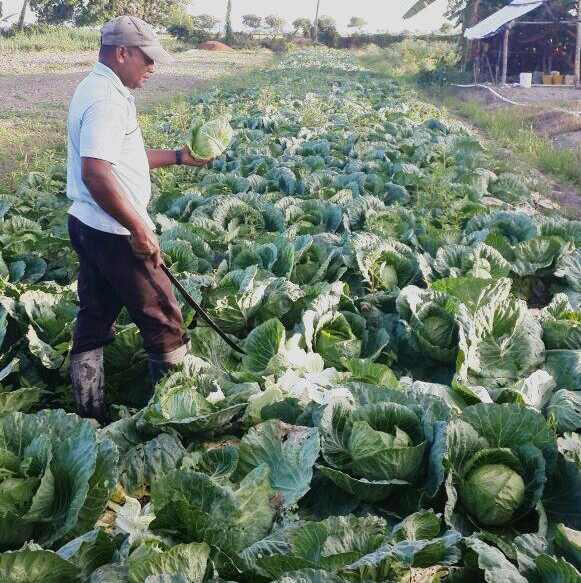 Hanoman Ramsaroop is a farmer 'to the bone.' On Fridays he makes his way to the Anna Regina Market to sell the vegetables cultivated on his farm situated off the Capoey access road. He spends the entire trading day at the market…roughly from 5:00hrs to 14:00hrs daily. It is the only respite that he gets from farming, which has been his preoccupation for the past 33 years.
Hanoman is not bashful about 'talking up' his produce.  He believes that where quality is concerned his customers never get anything less than a good deal. He insists that his boulanger, tomato, bora, pepper and cabbage, among other crops cultivated on his two-acre farm benefit from expert attention. His cultivation pattern ensures that on any given day he can offer fresh supplies of a range of vegetables sufficient to meet the needs of both his wholesale and retail customers. Quality, he says, is the competitive edge that has enabled an impressive rate of customer retention among customers who come from as far away as Moruca and the Pomeroon.
Ramsaroop mentions, almost incidentally, that he is also a rice farmer. The demise of the Petro Caribe Agreement that afforded rice cultivated in the Essequibo Coast access to a lucrative Venezuelan market has meant that the crop is nowhere near as talked-about in the community as it used to be.
Cash crop farming he concedes, is different, more intense, more demanding.
Ramsaroop now finds himself more attached to his cash crop farm. This is    primarily because the cash crop farm needs more attention and is done year-round. He earns a    steady income in spite of additional competition whenever rice is in crop. Having observed the    market trend, he concluded that the rice industry is one of the main factors that determines the    price and supply of vegetables being sold at the Anna Regina Market.
You have to be part of an agricultural community to properly understand the correlation between the rice and vegetables industry. When rice is 'in crop' the rice farmers must find one means or another of subsidizing their incomes. Fresh vegetables are as good an option as any.
"Whenever rice in crop you find more persons growing vegetables to sustain their livelihoods    until   the   rice   crop   is   harvested…when   the   rice   crop   is   harvested   and   persons   have more disposable income the volume of vegetables on the market reduces. Vegetable cultivation when rice is out of crop also suffers since cattle farmers seize the opportunity to afford their livestock more elaborate grazing. Indiscriminate grazing does not work to the advantage of the vegetable crops.
As is the case at the municipal markets in Georgetown vegetable prices on the Essequibo Coast have been 'pushed to the floor.' Tomato and cabbage are currently being traded at $100.00 per pound. Hot peppers can be had at $140.00 per pound. Ramsaroop understands that if he is to endure the pressure of low prices he must increase his production levels………..so that, these days, he has available for sale somewhere between 200 and 300 pounds of tomato. With available land beyond his two-acre plot being difficult to come by, the optional approach to increasing yield is enhancing efficiency.
Accordingly, his focus is on qualitative improvement by seeking out the best available technical support. The high quality of what he produces, he says, can be attributed largely to the support of the National Agricultural Research and Extension Institute. (NAREI). Experiences of low yield and sub-standard produce have been put behind Ramsaroop on account of interventions by NAREI. One such intervention, he recalls, involved adding limestone to the soil, a pursuit that significantly increased yield.
Over time, he says, sustained interaction with   NAREI's   Extension   Officers   have   exposed  him to new, more efficient  farming techniques which he says have proven to be more effective. Over time he has significantly reduced the labour intensive nature of his farm having pressed into service a tractor, a tiller and a water-sprinkling system. Technology implemented to execute the mundane tasks on the farm means that Ramsaroop has more time to spend on the minutiae…like crop inspection and disease detection. The level of efficiency in his operation has meant that even what can sometimes be the tricky task of transporting produce to market is usually 'a breeze.'
If the uncertainties associated with the future of the rice industry do not appear to have shaken the faith of Essequibo rice farmers in the likelihood of the emergence of new markets, Hanoman Ramsaroop provides an example of the prospects that repose in the pursuit of viable options.
Around the Web