It is frequently the case that some of the most impressive examples of creative female entrepreneurship unfold unobtrusively, without fuss or fanfare, leaving the energy that they invest and the rewards that they reap to speak for themselves. For these types of initiatives success is entirely dependent on adapting their operations to suit their environment and, sometimes, developing and executing a plan the works for everyone.
Working together and knowing each other has helped the women farmers, members of the Mahaica Women's Group to understand the value of networking. The group is not a Cooperative. Its members are individual businesswomen, concerned with the success of their separate enterprises. On the other hand, they understand only too well that their interests converge so that the thirty sturdy womenfolk, each of whom operates her own home-based business in communities within the Unity/Vereeniging Neighbourhood Democratic Council work together out of a clear individual understanding of the benefit of so doing.
The purpose of the 'collective' is to afford the women the opportunity to access resources available through governmental and non-governmental organizations, taking advantage of criteria that include   group criteria. The collective benefit having been realized they go their separate ways, temporarily, at least, to immerse themselves in their separate ventures mostly in agriculture – crops and poultry – or else, in craft, and sewing.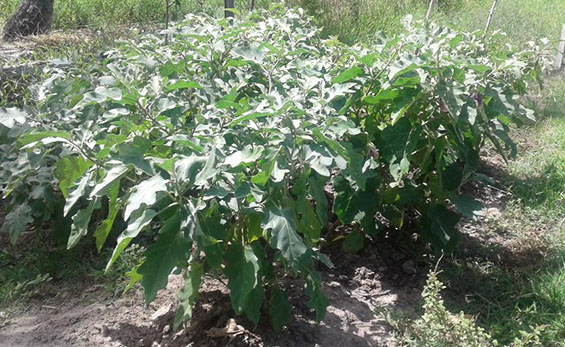 Farming predominates. Over the past 10 years the women, mostly single parents, have been cultivating a variety of crops including boulanger, cucumber, peppers, calaloo and corrila and taking their produce to market. Debbie Argyle is the Chairperson of the group. She explains that while the women each run their individual enterprises they essentially look out for each other. There are, for example, economies of scale to be derived from acquiring large quantities of farm materiel to meet the collective needs of the women. Collectively, the group has also succeeded in mobilizing planting materials and various forms of technical support. As a group they also benefit from Farmers' Field Days and Farmers' Field School exercises. The School initiatives are aimed at improving production and agricultural diversification. Currently, NAREI is partnering with members of the group to host demonstration plots on their farms in order to allow the Institute to undertake new initial initiatives aimed at affording exposure to new crops. A small area of Argyle's farm is dedicated to onion cultivation.
She is currently working with other farmers who are seeking to position themselves for a breakthrough on a local market that is seeking to wean itself away from a multi-million dollar import bill. Debbie is optimistic. Before transplanting from the seed tray she had visited other farmers growing onions and sought to observe their methods. She says that in the same way that she is learning from farmers outside of her group other farmers are learning from her. The women are hoping that their venture into onion cultivation will create another income stream for them.
Eventually, Debbie returns to the oversight role that NAREI plays in the progress they are making.  Their own enterprise and determination to succeed is complemented by the critical technical support that comes from the Institute and without which life in farming is likely to prove a good deal more challenging.
Around the Web