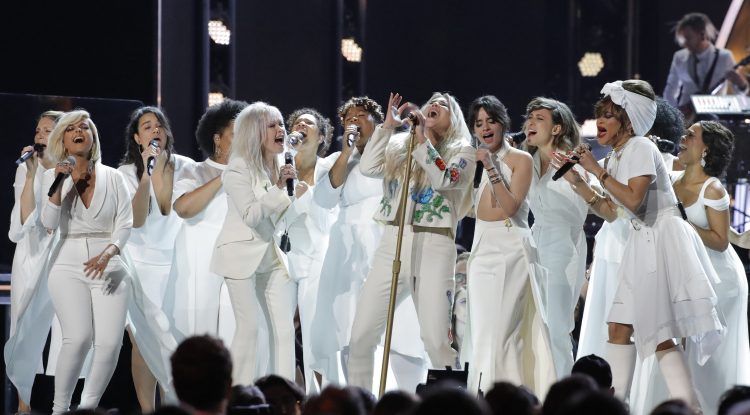 LOS ANGELES,  (Reuters) – Dressed in white and accompanied by five fellow female artists, pop singer Kesha took the spotlight at the Grammys on Sunday to deliver a powerful ballad as part of the Time's Up movement to end workplace sexual harassment.
Kesha, 30, who has been battling her former record producer Dr. Luke for years in U.S. courts over allegations of emotional and sexual abuse, performed her defiant single "Praying" alongside Cyndi Lauper, Andra Day, Camila Cabello, Bebe Rexha and Julia Michaels and an all-female choir.
Dr. Luke has repeatedly denied Kesha's allegations.
Actress and musician Janelle Monae introduced Kesha, calling for the music industry as a whole to "create safe work environments, equal pay and access for all women."
"We come in peace but we mean business. And to those who would dare try to silence us, we offer you two words: Time's up," Monae said as the audience applauded.
The Time's Up movement was launched by more than 300 Hollywood industry figures earlier this month in response to sexual assault and harassment allegations against powerful men in entertainment, politics and other fields.
"It's not just going on in Hollywood or in Washington. It's right here in our industry as well. Just as we have the power to shape culture, we also have the power to undo the culture that does not serve us well," Monae said.
"Praying" is the lead single from "Rainbow," Kesha's first album in five years following her bitter legal fight over her record contract.
"You brought the flames and you put me through hell; I had to learn how to fight for myself," Kesha sang.
The singer broke down in tears at the end of her performance and hugged the artists accompanying her on stage. Host James Corden, with tears in his eyes, said, "Music often resonates more than the spoken word ever could."
Both "Praying" and "Rainbow" were nominated for Grammy awards this year but lost to Ed Sheeran's "Shape of You" song and "Divide" album in the pop categories.
The music industry showed its support for women's equality and freedom from sexual harassment by wearing or carrying white roses at Sunday's Grammy Awards in solidarity with Time's Up.
Lady Gaga spoke the words "time's up" when she performed her song "Joanne," and rapper Kendrick Lamar wore a white rose as he accepted his numerous accolades on stage.
Comments

LOS ANGELES,  (Variety.com) – Disney-Marvel's "Black Panther" is heading for a super-heroic $218 million debut over the four-day President's Day weekend at 4,020 North American locations, estimates showed Sunday.
LONDON,  (Reuters) – Dark comedy "Three Billboards Outside Ebbing, Missouri" was the biggest winner at the BAFTA Film Awards, held in London on Sunday, an event which saw the campaign for women's rights in the entertainment industry take centre stage.

LOS ANGELES, (Reuters) – Some film critics are calling it the best Marvel movie so far; others say it's a correction after years of neglecting minority talent in Hollywood.

(Reuters) Amid violent protests and calls for a ban, Sanjay Leela Bhansali's "Padmaavat" released in Indian theatres last week to a mostly positive reception from audiences.

LOS ANGELES,  (Reuters) – U.S. singer Vic Damone, a crooner who found fame in the 1940s and 1950s, has died at the age of 89, his family said on Monday.