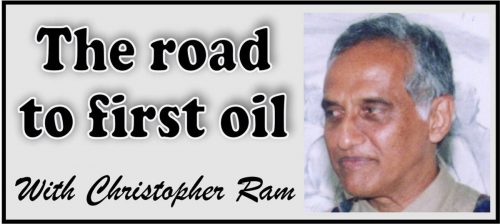 Introduction
It was good to see Dr. Mark Bynoe, Director/Head of the Department of Energy in the Ministry of the Presidency speaking publicly on the petroleum sector. While Minister Joseph Harmon has been assigned responsibility for the sector by President Granger, and will necessarily be answerable to the National Assembly, the day to day management and oversight of the sector seem now to fall squarely on Dr. Bynoe.
In an interview with the State-owned Guyana Chronicle published last Wednesday, Dr. Bynoe was cautious about any "revisiting, revising, [or] renegotiating" any petroleum agreement but in a masterpiece of officialese, assured the Chronicle that "we" will continue to engage deeply to ensure that value leakage is reduced wherever possible.
Foreign experts
In this regard, Bynoe seems to rely heavily on international experts helping the Department of Energy working with the Audit Office, an independent constitutional office and the Guyana Revenue Authority, a statutory body committed to secrecy and confidentiality in its work, to conduct cost recovery audits. Some of these international experts will no doubt be drawn from the IMF, the World Bank and the Commonwealth Secretariat, the very institutions that touted the Petroleum Commission conceived to do some of the very work which the Department of Energy is now assuming, but of which everything is silence. 
Welcome as it is, Dr. Bynoe's entrée has not offered any assurance that the confusion, incompetence and dishonesty which have underlined this Administration's management of the sector will fundamentally change in the short term. Dr. Bynoe announced to the Chronicle that the Government is hiring technical expertise to provide a model Petroleum Sharing Agreement (PSA) to be used to engage other companies going forward. Bynoe appears locked in and enamoured of the PSA and even if he is, it surely does not require international experts to tell us what needs to be done under the PSA to ensure that Guyana gets a larger share.
The Government take
There are about six elements to the PSA which allocate the respective shares of the State and the oil companies. These are: a bonus on the signing of the Petroleum Agreement; annual rental for the blocks based on hectares allocated; a production bonus on the issue of a production licence; a staggered profit share in which the State receives an increasing percentage of the revenue as production volumes increase; and income and corporate taxation, including withholding tax. Other elements may include an equity stake in the operations; limitation on administrative charges; limitation on costs to be recovered in any year; and ring fencing. That is it.
But as anyone familiar with earlier columns in this series will know, there are several alternatives to the type of PSA's which Guyana now employs and which Bynoe thinks can be tinkered with, or to use a term he appears to have copied from his predecessor Minister Raphael Trotman, "tweaked". The only difference is that Trotman's tweak turned out to be an entirely new Agreement.
Avoiding hubris and partisanship
Petroleum under both this and its predecessor Administration has been characterised by incompetence, hubris and partisan considerations with results that are not merely detrimental but decidedly catastrophic for the country. In this regard, as I was doing some research into the problem stricken National Insurance Scheme I came across a passage in the Hansard from a speech by a United Force Member of Parliament Mr. J.A. Sutton in which he said:
"The Government will eventually find out that this country will only put its best foot forward when all resources of the country, mental, physical and financial are in fact used to solve our problems…. Give [the people] an opportunity, and when all the brains are put together you must arrive at a solution which, with the materials you have, will be the best possible you can have in the circumstances." 
Of course there are lots of experts out there, as there are charlatans and carpetbaggers. But unless a brake is put on this level of guesswork and bungling in the management of the country's petroleum resources, the Administration will continue to create Voltairian-type characters like Dr. Pangloss, the ultimate optimist that everything will turn out right. I fear that unless President Granger starts to take note of the caution expressed by Mr. Sutton forty-nine years ago, we will engage in cycles of errors and eventually corruption when we should be thinking carefully and acting decisively.  
Commission of Inquiry
President Granger is not only a student of history, he is also fond of commissions of inquiry. If there is any sector or activity that cries out for a Commission of Inquiry it is the petroleum sector. Let the PPP/C explain the 1999 Agreement and the various addenda it signed with Esso in a maze of opacity and non-disclosure. Let Robert Persaud who is now a cheer leader for this Administration tell us of his role in the natural resources sector as a senior member of the last Administration.
But it is also time for Raphael Trotman to answer questions under oath about his role in the 2016 Petroleum Agreement and why instead of correcting the excessive and suspect generosity of the 1999 pre-discovery Agreement, he actually sweetened it in a 2016 post-discovery Agreement. Let those who argue that the Agreement is too one-sided to deserve the protection of the sanctity of contract explain how Guyana can extricate itself from the worst features of the Agreement.
Most importantly, let us use such a vehicle to consider a new pathway to prosperity in a balanced way in which the wealth derived from petroleum resources is shared equitably between those who help to extract them and those who hold them in trust and those who. Let us look for new models of petroleum exploration and production. 
Let us stop relying on foreigners to teach us how to think, how to manage, how to act, how and when to write, amend or repeal our laws. We have much more intelligence, ability and competence than this Administration is prepared to concede. 
Around the Web