Kenneth Johnson, the driver who struck and dragged a Bent Street pensioner to her death on Tuesday, will be spending the next four years in jail after he pleaded guilty today to a charge of causing death by dangerous driving.
Johnson, 35, of 'A' Field, Sophia, Greater Georgetown, was arraigned before Chief Magistrate Ann McLennan in Georgetown on the charge that on January 2nd at Brickdam, he drove motor car PLL 2838 in a manner dangerous to the public, thereby causing the death of Jaclyn Joseph.
Johnson, a labourer, pleaded guilty to the charge.
The police prosecutor told the court that Johnson, who was proceeding east along Brickdam, approached the intersection at Cummings Street and saw the traffic light with seconds counting down before it would turn red.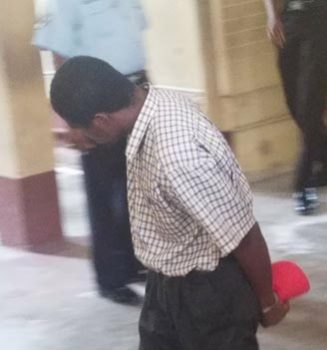 As a result, he increased speed and crossed the intersection. However, by the time he reached the next intersection of Brickdam and Winter Place, Johnson collided with Joseph, who was crossing the road. As a result, the prosecutor said, she was run over and dragged along the roadway about 147 feet, resulting in her left leg being severed.
A post-mortem examination was conducted on the woman's body yesterday and the cause of death was given as multiple injuries due to a motor vehicle accident. At the time of the accident, Joseph, 72, of Lot YY Bent Street, Wortmanville, had been making her way to the Bourda Post Office to uplift her pension.
Johnson, in a statement to the court, said that the accident was not due to a willful act on his part. He maintained that he did not see Joseph and pointed out that he usually gives pedestrians the way.
Following his plea and his statement, Chief Magistrate McLennan sentenced him to four years in prison.
Meanwhile, Johnson was also read a charge that stated that on the same date, he used motor car PLL 2838 as a hire car, although the vehicle was not licensed for such activity. Johnson pleaded not guilty to the second charge but was found guilty after testimony by a police rank.
Constable Peterson, who went to the scene of the accident after receiving information, testified that he had checked Johnson's car and found a radio set between the driver's and front passenger's seats. He stated that he spoke with Johnson and asked him what he was doing with the radio set and Johnson responded by telling him that he was "hustling at Swift Cabs." Constable Peterson further stated that he escorted Johnson to the Alberttown Police Station, where he informed him of the crime he had committed.
Despite his guilty plea, Johnson told the court that he does taxi work part time to earn extra money.
Chief Magistrate McLennan found him guilty of the offence and fined him $20,000 or an alternative of four weeks imprisonment, which would be served concurrently with his four-year-sentence.
Around the Web