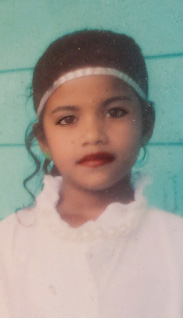 An eight-year-old girl is presently hospitalised in a critical condition in the Intensive Care Unit of the Georgetown Public Hospital after she was struck by a car along the Number 68 Village Public Road on Wednesday afternoon.
Christina Lakeram, of Lot 111 Number 68 Village, Corentyne, is said to have sustained major injuries, including to her head, abdomen and legs. She was picked up in an unconscious state and rushed to the Skeldon Public Hospital, from where she was later transferred to the New Amsterdam Public Hospital and then to the Georgetown Public Hospital, where relatives are waiting for her to regain consciousness.
According to information gathered, a hire car, HC 7751, was proceeding south along the eastern side of the roadway, allegedly at a fast rate, when Lakeram is said to have suddenly run across the road. As a result, she was hit.
Her father, Omesh Lakeram, 44, told this newspaper that after he received the message about the accident, he immediately rushed to the Skeldon Hospital, where he met the driver of the car, who offered assistance to his daughter. The worried father said, "I thank him for that, he offer assistance."
According to the man, the driver of the car, while trembling, told him that he did not see his daughter ran across the road. "He say like he run she over, he wasn't sure," the father related.
He added that his family is praying for his daughter to recover from the accident.
Meanwhile, the driver of the car remains in police custody, while his vehicle has since been lodged at the Springlands Police Station.
Around the Web