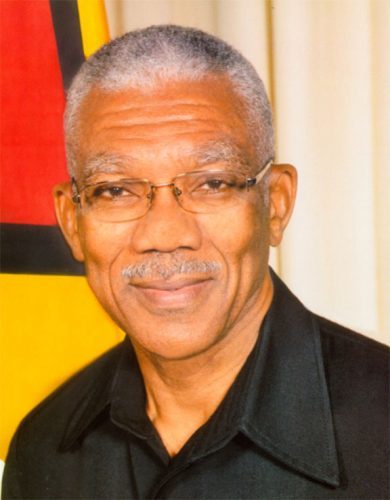 President David Granger on Friday evening said that Guyana is heartened by the support from the Indian government for the reformation of the sugar industry in Guyana and the development of the country's renewable energy resources in accord with the country's 'Green State Develop-ment Strategy.'
According to a Ministry of the Presidency statement, Granger was at the time delivering the feature address at the 69th Republic anniversary of India celebration, which was held at the Marriott Hotel.
He was reported as saying that Guyana stands firm in its friendship with India and recommitted to renewing and reinforcing existing commitments to cooperation. In this regard, he said that the planned visit to India this week by a delegation from Guyana, led by Foreign Minister Carl Greenidge, will help to advance those relations and result in the signing of more mutually beneficial agreements.
"Guyana looks forward to intensifying its cooperation with India in order to advance its green development agenda. We are heartened by India's offer to develop Guyana's renewable energy resources in accord with our 'Green State Development Strategy.' Guyana welcomes India's offer to assist in reforming the sugar industry and to enhance trade, investment and collaboration in the fields of agriculture, education, mining and renewable energy, among others," he was quoted as saying.
Recently, former president Donald Ramotar accused Granger's administration of ignoring promised financial help from India for the sugar industry that had been brokered before he was voted out of office in 2015. "I say with strong conviction that this government has taken a discriminatory policy regarding the sugar industry because India was there, willing to offer us assistance to help and had the loans. [They were] just waiting on us to do the calculations to say how much we needed," Ramotar told this newspaper in a recent interview. "For sugar, we had a general agreement in principle to recapitalise the industry and they promised whatever help was needed they would assist," he said, before accusing the current administration of never acting on the offer.
However, State Minister Joseph Harmon has urged that the former head of state substantiate the claim. Harmon told this newspaper that he was not aware that any loans from India were ignored. "He should identify what these loans are. Mr Ramotar should provide info and not just these blanket statements. He would have had access to this information and if he is saying there are loans he needs to specifically say. I am not aware that any loans were side-lined during our administration," he said.
Additionally, Minister of Foreign Affairs Carl Greenidge, who was also contacted, said that while he knew that the government of India has provided $100 million in loans to this country for various projects, he had to check and verify records before he can comment on the claim.
Meanwhile, the ministry statement reported Granger as saying that the Guyana-India relations are founded, unshakably, on mutual respect for each other's territorial integrity and sovereignty, mutual non-interference in each other's internal affairs, cooperation for mutual benefit, respect for treaties and international law and the maintenance of international peace and security.
"India continues to contribute to Guyana's economic development. Our two Republics have signed agreements for development projects in the fields of education, drainage and irrigation, health-care, information communications technology and transportation, among others…," he also noted.
The statement also said Indian High Commissioner to Guyana Ventakachalam Mahalin-gam told the gathering that aside from offering its help to the Government of Guyana on the reformation of the sugar industry, it has also supported infrastructural, environmental, educational and cultural projects, with the aim of strengthening its ties with the Government. These areas, he said, are not only based solely on what the Indian Government decides but on the priorities defined by policy makers in Guyana.
He noted that the projects have been born out of the friendly relationship that the two countries enjoy since the establishment of diplomatic ties 50 years ago. "This year is a significant year as it commemorates the 50th anniversary of our relations. Our two countries have been guided by the commonalities that we share in terms of our past and both being multi-racial, multi-cultural societies.  Guyana and India have further strengthened their relationship over the past two and a half years with enhanced cooperation in a number of fields, with the notable being the meeting between President David Granger and the Prime Minister of India, Mr. Narendra Modi," he was quoted as saying.
Former presidents Ramotar and Samuel Hinds, former Prime Minister Hamilton Green, members of the diplomatic corps and Members of Parliament were among those in attendance at the celebration.
Around the Web