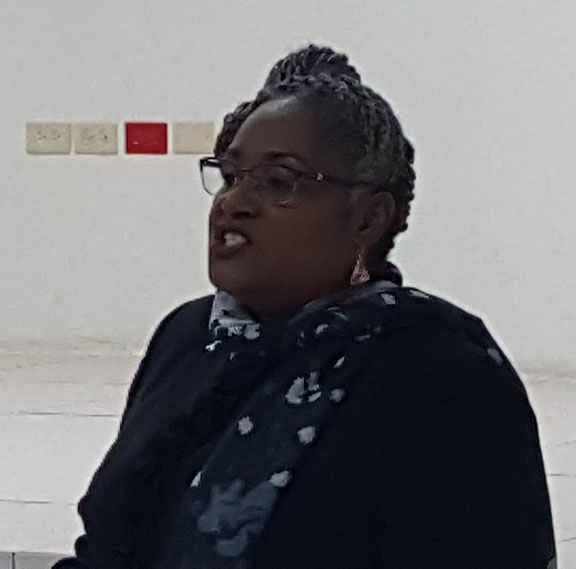 In keeping with the recommendations made by British security adviser Lt Col (rtd) Russell Combe, 10 prison officials and two policemen are undergoing training to identify and handle vulnerable prisoners, particularly those who are mentally unstable.
The Handling of Vulnerable Prisoners Training Course, which is funded by the United Kingdom, is being facilitated by two persons, including Caroline Ravello, Director of Create Better Minds, a Non-Governmental Organisation located in Trinidad and Tobago.
In his remarks during the opening ceremony, which was held yesterday morning at the Guyana Police Force Training Centre, Director of Prisons (ag) Gladwin Samuels noted that in Guyana there is an increasing number of vulnerable persons who are being incarcerated for various reasons. Samuels disclosed that there are approximately 75 mentally-unstable prisoners within the prison system, all of whom receive regular medical treatment due to the prison service's relationship with the Ministry of Public Health.
Prior to the July 9th, 2017 fire at the Camp Street Prison, most of the mentally unstable prisoners were housed at that location and in most cases received daily care from the psychiatric department of the Georgetown Public Hospital. How-ever, since the fire they have been spread across the country, although they are still receiving treatment.
Calling the training course a step in the right direction, Samuels said that it will ensure that officials are better equipped to identify the prisoners who have special needs and are deemed vulnerable to ensure that they are properly catered for. He said that those benefiting from the course will go back into their respective work environments and share their knowledge with colleagues.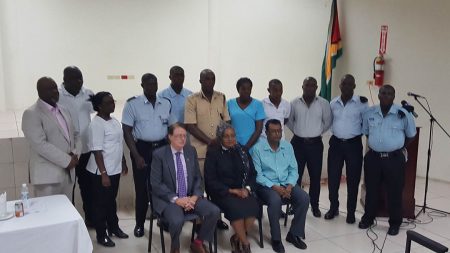 "Despite their [vulnerable prisoners] challenges, they're part of our population and they ought to be treated with the same respect as others. They ought to be protected from all forms of bullying because in a prison environment if someone is deemed weak, several things can happen to them. They can be made to wash people clothes, which is a violation of their rights. Their food can be taken away by persons who are stronger so by being able to adequately identify these persons…we will be able to adequately cater for those prisoners and provide the necessary segregation for them, also expose them to the necessary training that will be able to better equip them not only for the period of imprisonment but for when they are released," he added.
'Tangible outputs'
Acting British High Commissioner Ron Rimmer, who also spoke at the opening ceremony, said the training will also help the British High Commission fulfill its consular responsibility to any British national who may be imprisoned in Guyana, to ensure they, like other prisoners, are better treated and given the correct support. He noted that vulnerable prisoners are those deemed to be at risk of bullying, suicide or self-harm and who need additional support to cope in a prison environment.
Rimmer explained that the training, which is possibly the first of its kind in Guyana, was borne out of a request from President David Granger to include the prison sector in the UK-sponsored Security Sector Reform Review, following the prison riot/fire at the Camp Street Prison in March, 2016. He said that the first 12-month part of this review—Combe's consultancy—has just concluded and it identified many practical areas in which the UK could further assist Guyana, including specialist training for different components of the security sector.
According to Rimmer, the training course is the "latest in a series of tangible outputs that the UK has undertaken or will be undertaking in the near future." He noted that training for the Strategic Planning Unit of the Guyana Police Force and a marine capability review were completed and an aviation capability review is due to commence in early March. Prison Officer Leadership Training has also just commenced and this will be followed by a review of the Prison Service.
'Best that could be done'
Meanwhile, Minister of Public Security Khemraj Ramjattan noted that the final report of the James Patterson Commission of Inquiry had highlighted a wider view as to what was happening in the overpopulated Camp Street prison. He said that under the category 'Vulnerable prisoners,' Jus-tice Patterson had spoken about female as well as mentally and physically-disabled, sick and HIV-positive inmates. He said that each of these vulnerable groups has a difficulty at times relating to fellow inmates and the prison staff. "Sometimes the prison staff is totally unaware of their special needs and the requirements for special treatment," he said.
Ramjattan said that having found that there is need for special treatment for vulnerable prisoners, Patterson did indicate that there should be some infrastructural works done so as to accommodate them separately from the rest of the prison population. "But in the context of very difficult financial times, the best that could be done is …the training of officers to take care of these vulnerable prisoners," he said, before adding that it is important that prison staff be instructed on meeting the required needs.
The minister added that while government is working to make life for prison staff more comfortable, at the same time officers need to pursue their own educational development to be able to better equip themselves to take care of the "special needs" prisoners.
Ravello, in her remarks, pointed out that the detection, prevention and proper treatment of mental disorders together with the promotion of good health should be part of the public health goals of the prison system and be central to good prison management.
Noting that the prison staff plays a critical role, she said that the intervention will cover managing the prisoners, management of suicide and self-harm in the prison, screening, training, treatment and appropriate supervision of at-risk prisoners.
She urged those participating in the course to leave the training with the passion and compassion to create better minds.
Around the Web