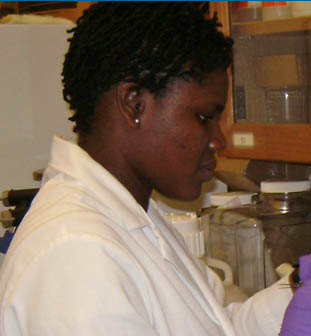 A Guyanese is among five researchers who yesterday received an Organization for Women in Science for the Developing World (OWSD)-Elsevier Foundation Award for Early-Career Women Scientists in the Developing World.
Dr. Dawn Iona Fox, a Lecturer at the University of Guyana's Turkeyen Campus has been recognised for "her research on converting local waste products into materials to solve environmental problems," according to a report on the Elsevier website.
The report notes that Dr. Fox's work has significant potential for national and regional impacts in the areas of environmental remediation and public health. Her current work, it adds, is focused on improving drinking water quality at the household level for vulnerable communities and on 'water-stress' events such as floods, storms and hurricanes. "Winning the 2018 OWSD-Elsevier Foundation Award for Early-Career Women Scientists is both a validation and an encouragement to continue my work on using locally available and natural materials to create sustainable water treatment technology," Dr. Fox is quoted as saying. "It also gives me the confidence to continue my advocacy and outreach to encourage girls and women to consider STEM careers," she added.
The other recipients are from Bangladesh, Cameroon, Ecuador, and Indonesia.
Jennifer Thomson, President of the OWSD, said the scientists are "living proof" that if given the opportunities and support, women all over the developing world can become leaders in their field. "I salute them all and commend them for their commitment to their fields of study and to the improvement of the lives of men, women and children in their communities. They serve as role models for all young girls and women aspiring to achieve success in their fields," she said.
The report noted that the awards are part of a seven-year partnership between OWSD and the Elsevier Foundation. OWSD chairs a panel of distinguished scientists to select the winners, and the Elsevier Foundation supports a cash prize for each winner of US$5,000 and an all-expenses-paid trip to attend the 2018 American Association for the Advancement of Science (AAAS) Annual Meeting, which is currently being held in Austin, Texas.
Around the Web