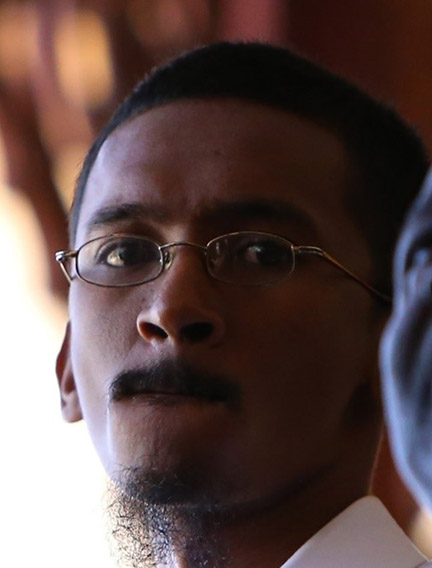 Almost four months after being instructed to discontinue testifying at the trial of Franz Paul, the former police cadet officer charged with shooting a then 15-year-old in the mouth, the final witness for the defence was finally able to complete his evidence yesterday.
Dr. Yogeshwar Singh, who is attached to the Georgetown Public Hospital and is the assistant to both Dr. Nehaul Singh and Dr. Nancy Sitchao, was called as a final defence witness on October 17th, 2017, by Paul's attorney Roger Yearwood.
However, subsequent to his testimony on that date, Singh, who was expected to return to court a few days later, was a no-show. Yearwood subsequently reported to the court on October 24th, 2017, that Singh was advised by his superiors not to continue his testimony.
The attorney had requested that a summons be issued to the doctor to secure his attendance at court.
Singh finally made his appearance before trial Magistrate Fabayo Azore yesterday to be cross-examined by police prosecutor Sergeant Dominic Bess.
The charge against Paul, of Lot 189 Freeman Street, East La Penitence, is that he shot Alex Griffith in his mouth on April 30th, 2014, at Georgetown.
On October 17th, 2017, Singh, who is a lecturer of Pathophysiology at the University of Guyana (UG) and an assistant lecturer of Forensic Medicine at UG and the Texila American University, was questioned about the likely signs from a scenario where a .38 pistol is placed into the mouth of an individual.
Singh had stated then that there would be an entry and an exit wound because it is near contact. He added that the entry wound would be inverted and would have tattooing, burns caused by the nozzle of the gun or gunpowder.
According to Singh, the entry wound  be smaller than the exit wound, which would be everted and larger.
Singh was then showed the tendered medical certificate for Griffith.
Based on the medical report, Singh noted, among other things, that it stated that there were lacerations/ tears and the first molar was fragmented/broken.
Singh was then asked by Yearwood to state his understanding of what the examining doctor stated on the medical certificate, to which he said that the injuries began from the tongue then continued upwards.
When asked by Yearwood if there were anything on the certificate that suggested tattooing, Singh responded no.
Singh also said no when he was asked if there were anything that would suggest that it may have been a contact wound.
Under cross-examination yesterday, Singh, when asked if the injuries mentioned in the medical certificate were consistent with that of a gun being placed slanted, stated that based on his experience, the injuries mentioned were not.
However, when asked if the injuries sustained could have been from a gun being elevated, Singh noted that he would be unable to say since he was not a specialist.
Subsequent to the doctor being cross-examined, attorney Yearwood closed his case.
He then requested two weeks to prepare closing arguments and the adjournment was later granted by Magistrate Azore.
The matter was then adjourned until March 13th.
Around the Web