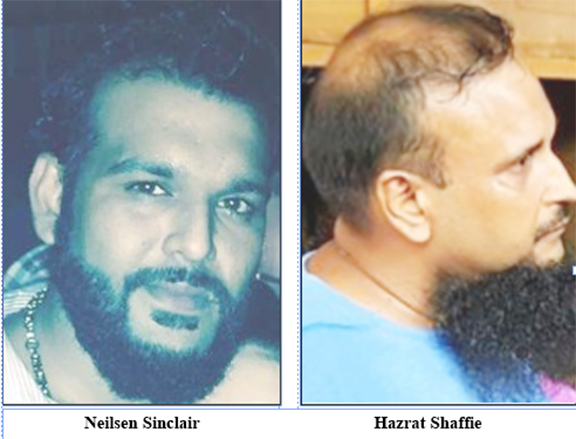 Neilsen Sinclair, the accused in the fatal beating of businessman Hazrat Shaffie, was yesterday charged with murder.
Sinclair, 29, was brought before Magistrate Alisha George at the Sparendaam Magistrate's Court, where he was charged with the murder of Shaffie, who was the proprietor of the Advance Furniture Factory at Coldingen, East Coast Demerara (ECD).
The accused, a businessman of Lot 8 Temple Street, Ogle ECD, was not required to enter a plea to the indictable charge.
He was subsequently remanded to prison and is set to make his next court appearance on March 23rd.
Shaffie was rushed to the Georgetown Public Hospital in an unconscious state after the attack last Friday evening and he was admitted in the Intensive Care Unit. He succumbed around 5 am on Monday.
The police, in a statement, had described the accused as a Medical Administrator of Temple Street, Ogle, ECD, where Shaffie had gone for a medical examination by Dr Nelson Sinclair, the father of the accused. The statement said he attacked Shaffie and was seen kicking him repeatedly.
The results of an autopsy that was conducted on Monday gave the cause of Shaffie's death as haemorrhage and shock due to multiple injuries.
The deceased's brother, Asif Shaffie, previously related that his brother went for a medical examination by Dr Sinclair, when he was attacked.
Asif told this publication that the attack occurred sometime between 7 pm and 8 pm on Friday. He explained that his brother was in his car and his attacker, who had just returned home, drove up to him.
"From what we were told is that he hit my brother vehicle on the left side and then pulled him out of the vehicle and started to kick him up and stomp him," the brother related.
Asif added that neighbours related to him that the suspect would stop at intervals and then resume his attack.
The brother went on to explain that after neighbours heard the commotion, they yelled at the suspect to desist from what he was doing but he paid them no mind.
"Even the father said he tried to stop him but he turned to attack the father and the father went back into the yard," he noted.
After the attack, a resident from the street contacted one of Hazrat's neighbours, who informed his family of the attack.
As a result, a close friend, who was also alerted, rushed to the location in a taxi and found Hazrat in an unconscious state. He was then rushed to the Georgetown Hospital.
Hazrat, Stabroek News was told, suffered broken ribs, an injury to his left eye, facial fractures, internal bleeding and injuries to his head.
"My brother wasn't in the best of health, so he wasn't able to run or fight off the man," Asif added.
Around the Web