Chief Executive Officer and Commissioner of the Guyana Lands and Surveys Commission (GLSC), Trevor Benn has announced that the Commission is developing a Code of Ethics to guide and police the work of Land Surveyors across the country.
According to a Ministry of the Presidency press release,  Benn made this announcement during a community meeting, held on February 26th in Corriverton as part of a three-day outreach, from February 25-27, to East Berbice-Corentyne (Region Six).
This code of ethics, Benn said, is being incorporated into a Bill to be tabled in the National Assembly.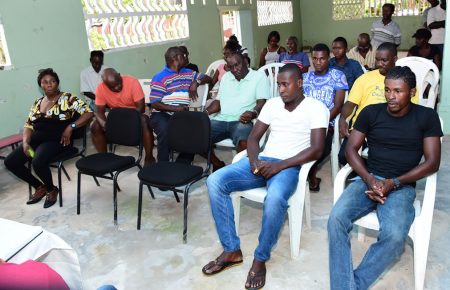 "People have been complaining about the way work has been done with surveying. So, we're working on a Bill that we hope to take to Cabinet and then to Parliament in relation to the work of surveyors; a new code of ethics that will govern the profession. At the moment, we don't have any and so surveyors go out there and work without any real sanction for bad behaviour… We're putting this Bill in place to make sure that there is something we can go by and we don't treat in an ad hoc manner the sanctioning of surveyors," he said.
The Commission has held one consultation with surveyors in Demerara-Mahaica (Region Four), according to the press release, and will continue consultations in the other administrative regions of Guyana. The consultation process is set to be completed at the end of May with the goal of completing the draft bill and presenting it to Cabinet in June 2018.  Benn said that the outreach was planned in response to an increasing number of land inquiries and complaints coming from Region Six.
Attended by a 10-person team from the Georgetown GLSC office, the release said that the Commissioner was able to listen to the issues of over 60 residents from Kildonan, Fyrish, Springlands, Corriverton, New Amsterdam, and their surrounding villages.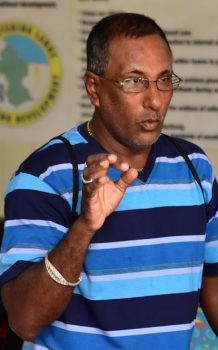 "At the Lands and Surveys Commission we take very seriously the work that we do and in order for us to be able to understand the issues affecting our work on a daily basis we have organised ourselves to do several outreaches across the country… We do these outreaches primarily because often the true picture of [what is] happening on the ground is unknown from the office. So, we come out with the staff to sit and air the views from the people themselves who live in the issues on a daily basis and who understand [them] better than we do… We can, together with them, find resolutions on the many issues," the Lands Commissioner said during an interview at Dave's Reception Hall, Chapel Street, New Amsterdam.
With the hope of healing Commission-Municipal relations that may have been strained in the past, the release said that Benn made courtesy calls on Mayor of New Amsterdam,  Winifred Haywood and Regional Chairman of Region Six,  David Armogan.
"We intend to do this wherever we do outreaches; to meet with the local authorities… to let them understand what… we are about, to let them understand the do's and don'ts, and to let them understand how we can support them and vice versa… In the past, a lot of decisions were [made] without the involvement of these stakeholders… We believe [that] it was wrong, which is why I apologised to the Mayor and Town Council this morning and promised that in the future we will do better," he said.
According to the release,  Haywood voiced her appreciation for the outreach.
"We were rather fortunate to have the Lands and Surveys Commissioner and his team… We're happy for all the information that was filtered to us and we will abide with all the principles and policies of the organisation so we can have a smooth running town in Region Six… Whatever would have [been] done wrong in the past, I also am willing to forgive so that we can work together cooperatively," she said.
The release said that similar sentiments were voiced by Regional Chairman Armogan.
"I am very happy that the Commissioner and his team [have] found the time to come to this Region to discuss some matters relating to lands because this Region has been plagued for many years now with land issues… We still have a lot of issues on the ground that [need] to be ironed out… I'm sure [The Commissioner and his team] have been able to deal with some of these
problems and resolve some of these long-standing issues… Once we can work together I'm sure that a lot of these issues can be resolved," he said.
As a result of the meetings, Benn and a team from the Georgetown GLSC office will return to Berbice on March 10, 2018 to help conduct an occupational survey with the hope of solving land disputes in Kildonan. The Commissioner also met with GLSC branch offices in New Amsterdam and Corriverton.
Around the Web