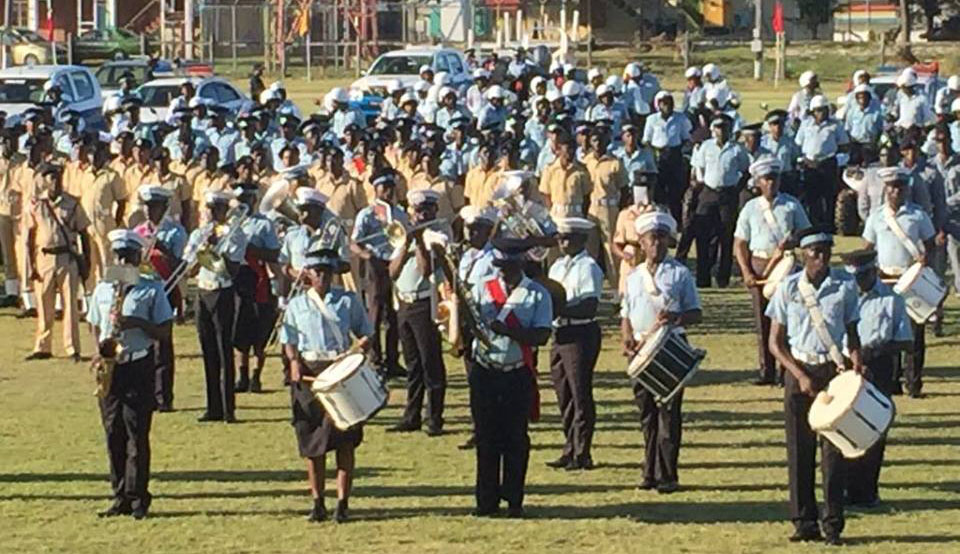 The Guyana Police Force on Wednesday held a farewell parade in honour of its 31st Commissioner of Police Seelall Persaud, who is retiring after serving the force for 33 years.
During his address at the event, which was held at the Police Sports Club, Eve Leary, Persaud, who said he was leaving the force in good health, pledged his full support to his successor and team, although his replacement was not identified.
Persaud later told reporters that the Constitution requires that the president makes an appointment based on certain circumstances, including recommendations from the Police Service Commission.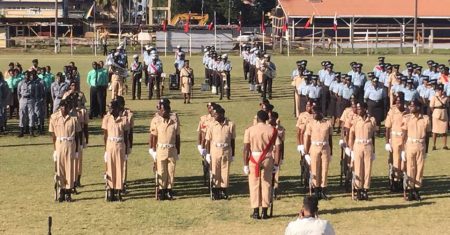 "The life of the previous service commission has ended and the new one has not yet been constituted, so my successor has not been appointed, has not been named," he said while noting that he doesn't know who that person is.
According to the Constitution, the Commissioner of Police is to be appointed by the President acting after consultation with the Police Service Commission. It further states that if the office of Commissioner of Police is vacant, a person may be appointed to act in that office.
Persaud is expected to be succeeded by Assistant Commissioner of Police David Ramnarine, who was on leave but was scheduled to return yesterday.
While Persaud acknowledged that Ramnarine would be the most senior member of the force after he demits office next Monday, he would not say whether Ramnarine is the most suitable person to lead the force. Persaud said it is not his call. "It is not my call. I didn't consider the issue because it is not my job," he said.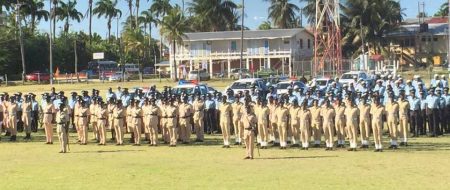 In his address, Persaud opined that he is leaving the force in good health, although he noted that both law enforcement and the country as a whole are poised to face new challenges. "Those will include the operations of western businesses in Guyana and the rise of terrorist threats within the region," he said.
Persaud described his journey as a "long, eventful but enjoyable" one, noting that it seemed like just recently he had his first parade after graduating from the police training school.
He credited the exposure he had over the years to both local and overseas training for his unique learning experience.
Work ethic
Assistant Commissioner of Police Nigel Hoppie, during his welcome at the event, highlighted Persaud's determination for tackling crimes, which he said had resulted in several major breakthroughs. "His contribution to the organisation has certainly been significant. His style of work ethic and professionalism have set the tone for the rest of the organisation to follow. He always emphasised the need for continued professional and personal development," Hoppie said.
On this point, he noted that Persaud was instrumental in the organisation of several local and overseas courses, which have seen 217 ranks being able to attend 115 overseas courses and 6,421 benefitting from 251 in-service courses under his leadership.
"He always cited the need for additional human and other resources to build capacity within the organisation and was able to receive government's approval for the expansion of the establishment of some 1,500 ranks along with the acquisition of… crime fighting equipment," he added.
Persaud himself thanked God, his family, the superior officers he had the chance of working with and subordinates who have also worked with him. "I want to say special thanks to those division branch commanders that worked with me during my tenure as commissioner," he added.
"Among the lot were people who were very, very competent, highly-motivated and highly committed to duty," Persaud noted, while relating that a lot was done, including crossing some uncharted territory as it relates to building public trust and developing the welfare of members of the force.
He also thanked members of civil society, such as the faith-based and business communities, for their work with the force, particularly through the Cops and Faith Community Network and the Social Crime Prevention Programme. "We have made tremendous strides in rebuilding public trust through their participation with us," he said.
Zara Group
Additionally, the Zara Group from New York was singled out for working with the force over several years by contributing to free Information Technology education.
Persaud, who hails from Affiance, Essequibo, was enlisted in the Guyana Police Force on October 15th, 1984 and has served various departments and divisions. His first promotion to the rank of Cadet Officer took place in 1990 after he successfully participated in the Standard Officers Course #21 and this was followed by his promotion to Assistant Superintendent in 1992, Deputy Superintendent in 1996, Superintendent in 1999, Senior Superintendent in 2003, Assistant Commissioner in 2007 and Deputy Commissioner in 2012. In 2014, he was appointed Commissioner (ag) and was confirmed in office one year later.
Wednesday's programme saw members of various branches and divisions of the force displaying their talents to offer Persaud a memorable send-off.
This included a drill display by ranks of the Tactical Services Unit (TSU), a dance by female immigration department ranks, the performance of the song "My way" by the force's string band and a beating retreat by the force's military band.
The performances, especially the song and drill display, captured the crowd's attention and were followed by loud applause.
However, the most attention grabbing part of the event was the parade march, which saw the participation of ranks not only on their feet but also in force vehicles, including motorcycles, ATV's and bicycles. Ranks from the mounted branch and canine division also participated.
Among the large crowd of well-wishers who gathered at the venue for the event were acting Prime Minister and Minister of Public Security Khemraj Ramjattan, Minister Citizenship Winston Felix, Police Legal Advisor Justice Claudette Singh, Chief of Staff Brigadier Patrick West, Director of Prisons (ag) Gladwin Samuels, Fire Chief Marlon Gentle, former Chancellor of Judiciary and former Chairman of the Police Complaints Authority Justice Cecil Kennard, Director of Public Prosecutions Shalimar Ali-Hack, retired Chiefs of Staff Mark Phillips  and George Lewis, retired Commissioners of Police; Floyd McDonald and Leroy Brumell, relatives of Persaud, including his wife and two children, and his friends.
Around the Web