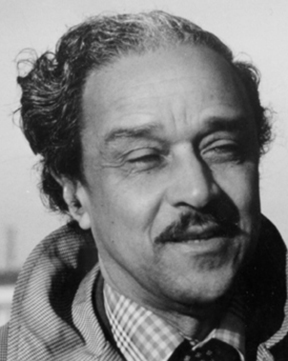 World renowned Guyanese author, Sir Wilson Harris has died at 96. The celebrated author of 26 novels, numerous works of poetry, essays and speeches passed on in England yesterday where he has lived since 1959.
President David Granger yesterday extended his condolences to Harris's family including his son Professor E. Nigel Harris, Chancellor of the University of Guyana. His other children are Alexis, Denise and Michael Harris. He is also survived by 6 grandchildren and 13 great grandchildren. His wife of 50 years Margaret Harris died 2010.
Author Ian McDonald, a contemporary of Harris's, told Stabroek News that he was saddened to learn of Harris's death. McDonald described Harris, whom he first met in 1955, as a most lovable and memorable man who had "a smile which crinkled his face until his eyes nearly closed and a very distinctive, slow, quiet tone of voice."
"Arthur Seymour had introduced me to his writing by giving me a copy of Wilson's strange and powerful poem Eternity to Season," he shared, adding that he would meet with the then professional surveyor at Martin Carter's home when he was in town. Much of Harris's time was spent in the forest and savannahs whose great spirits, McDonald is convinced invaded his imagination forever.
"When he was inspired by the ideas teeming in his mind his low voice would rise and rise as he read out loud passages he had written to express his thoughts and his speaking of the words would become a sort of chant and soon he would be raising his hand to strike Martin or me on the arm or knee as we sat near him quite hard and harder to punctuate and emphasise what was tumbling out of his mind. `You see!' he would say. `You see! You see!' I might not always see. But I felt. Some passages he read were incomprehensible to me. Some I remember being as beautiful and clear yet shadowy as forest rivers. At the time he may have been composing that extraordinary, visionary, wholly original work later published in England as Palace of the Peacock – so I like to think those passages he beat upon my knee may have been the first announcements of his genius," McDonald reminisced.
Harris, he said, will be remembered as "one of world literature's most original novelists" who was often mentioned as deserving of the Nobel Prize.
The originality of Harris's writing style was also commended by literary critic Al Creighton who described Harris's death as a sobering moment.
"His death is a great loss which has left a void.  He has left a vacuum because of his originality and the impact his style of writing made and the theories of writing he expounded upon. You don't have people doing that kind of writing right now,' Creighton repeatedly stressed.
He reminded that Harris's first contribution to Guyanese Literature was as a poet in the late 1940s.
"He was among those whose work was independent because he wasn't a slave to convention and therefore stood out among Guyanese poets of that time. This was a time when Guyanese literature took shape and he was at the forefront," Creighton stated.
Over a period of 50 years, beginning in 1960, Harris published a large body of work but he is still best remembered for his first four novels: Palace of the Peacock (1960), The Far Journey of Oudin (1961), The Whole Armour (1962) and the Secret Ladder (1963), all published by Faber and Faber and referred to as the Guyana Quartet. In recent years, Faber and Faber has re-issued the Guyana Quartet in a single volume.
Creighton explained that with the publication of Palace of Peacock, Harris transformed the English novel whose form had been static for generations.
"He transformed it with his narrative style in Palace of the Peacock and his incorporation of scientific theory particularly in The Secret Ladder which drew on his experience as a surveyor. It is amazing how he managed to use science to write fiction," Creighton said.
Harris himself has been credited as having described his innovations and literary techniques as quantum fiction. A definition he used in The Carnival Trilogy particularly the final novel, The Four Banks of the River of Space.
In an interview with Michael Gilkes he is quoted as stating that "in describing the world you see, the language evolves and begins to encompass realities that are not visible" and attributed his innovative literary techniques as a development that was the result of being witness to the physical world behaving as quantum theory thus when he accommodated his new perceptions, he realized he was writing "quantum fiction".
Harris attended Queen's College from 1932 – 1937. During the years 1945 to 1959 he worked as a land surveyor, primarily in the vast hinterland of Guyana where he interacted often with the indigenous people who lived there.
A statement from his family noted that while in Guyana, he was close to other Guyanese literary figures such as Martin Carter, A.J. Seymour, Ivan Van Sertima and Sidney King (Eusi Kwayana).
He has been the recipient of several awards including the Guyana Prize for Literature (1987 and 2002), The Premio Mondello dei Cinque Continenti award (1992), The Ainsfeld-Wolf Book Award (2014) and honorary degrees from the University of the West Indies (1984) and University of Liege in Belgium (2001). In 2010, he was awarded the Honour of Knighthood for services to Literature by Queen Elizabeth II. He has been nominated for the Nobel Prize in literature on more than one occasion. Some of his original manuscripts are stored in the Harry Ramsen Collection at the University of Texas in Austin.
Around the Web