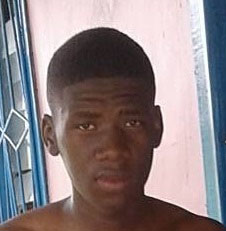 Kevon Johnson, the Tactical Services Unit (TSU) rank who was last year charged with stealing a pistol and 10 live rounds of ammunition, last Friday said he discovered the weapon in one of his boots.
Johnson was charged last October with stealing a 9 mm pistol, valued at $375,000, and 10 live rounds of ammunition, valued at $1,650, on August 27th, 2017, at TSU Headquarters, Eve Leary.
When his trial continued before Magistrate Judy Latchman last Friday, Johnson led his defence in unsworn testimony.
Johnson recounted falling ill with Typhoid fever, for which he was given sick leave.
He stated that he went to TSU headquarters and presented his sick slip and was told to rest. Upon returning to his quarters, he noted that he was feeling dizzy and discovered that his uniform and boots were not in the cupboard where he placed them but on the ground. He noted that he picked them up and left TSU.
Although given seven days of sick leave, Johnson added that he was still not feeling well and was later given another seven days after visiting a hospital.
Sometime after, he said he returned home and was going to wash his uniform when he observed something, suspected to be a firearm, in his right boot. Johnson stated that he removed the suspected weapon and became scared and nervous. He said he wanted to know how it got there.
"I placed the weapon in my crotch," he said, "and put on a pants, and a shirt."
Sometime later in the day, he went to visit his younger brother and decided that while there he would call his commanding officer, who had advised him to call if he ever got into any problem or any issue. When he called, however, the phone rang out. He added that sometime after he contacted his brother and later went to him at a barbecue.
It was while there that he observed a white, tinted vehicle approaching. He stated that an occupant in the front passenger seat exited and began running towards him, which caused him to run since he had the firearm on him.
According to Johnson, he was later arrested and taken to the Leonora Police Station, where he was kept for a few days before being taken to the TSU, where he was kept in custody for a few more days until his release.
Subsequent to his testimony, the accused noted that he would be calling his brother, Malcom Johnson, as a witness.
The matter was then adjourned to March 21st.
Around the Web