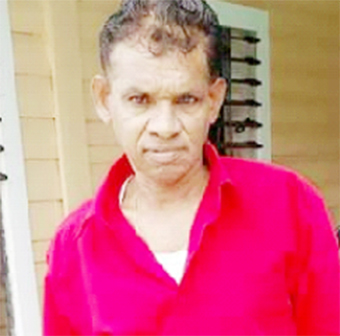 The family of Donavan Baromasi, the man who was struck and killed last Wednesday evening along the Bloomfield, Corentyne Public Road, believes that he could have survived  if an attempt was made to take him to the hospital immediately after the accident.
Baromasi, 54, of Lot 86 Bloomfield, Corentyne, was pronounced dead on arrival at the Port Mourant Hospital, where he was eventually taken after he was struck by a hire car.
The accident occurred around 8.30 pm.
Kevin Baromasi, 22, who is a grading officer attached to a rice mill in Black Bush Polder, told this newspaper that his parents would usually head out to the public road in the afternoons so that they could accompany him home after work.
"I call them before me leave… and they went out on the road. My mother said a truck was parked on the road and she go in at the back and sit down and my father stand right outside at the back of the truck behind the white line when them see the car coming speed and make one sudden thing and swerve into me father and hit him," he said.
He arrived at the scene just moments after the accident and saw a crowd. "…I see is me father on the ground with he pink shirt and I start scream for help. Me father did still breathing. I run come home for we car but the house did lock so we neighbour come out to take me father to the hospital," he said
Accompanied by the police, they rushed the injured man to the hospital but it was too late.
Meanwhile, the young man expressed his disappointment at the driver. "People does hit animals and pick them up. That man hit me father. He did going for Corriverton side and then he turn around and drive pass Whim [Police] Station and then go till to Rose Hall Outpost to make a report, but he couldn't pick up me father," he lamented. "I think if he did pick up me father, he could a live but no one nah offer assistance," he added.
According to Baromasi, he met the driver, who apologised to him. "I just kept asking him why he couldn't pick he up and carry him to the hospital but he keep saying sorry that he get confused," he added.
The senior Baromasi is survived by his wife and their two children. His relatives said he quit his job at a sugar estate two years ago and embarked on assisting his wife in running a canteen on the roadside. He was described as being a quiet and very helpful person to his family.
Driver Patrick King, 33, of 96 Rose Hall Town, Corentyne, was on Friday charged with causing Baromasi's death as well as with driving under the influence of alcohol, failing to stop after an accident and failing to render assistance.
Police said King pleaded not guilty to all the charges and was placed on $1,000,000 bail on the causing death charge and self-bail on the others charges.
Around the Web