Six projects currently being executed by the Ministry of Public Infrastructure in Region Eight are due for completion in the coming weeks and Minister of Public Infrastructure David Patterson says focus will then be turned to the rehabilitation of 10 kilometres of roadway between Cassandra Point and the Denham Bridge.
Patterson made the announcement during a visit to Mahdia on Friday, where he examined ongoing and recently completed works.
According to a ministry statement that was issued yesterday, six projects are being executed within the region: the construction of Mahdia Community Roads; the rehabilitation of roads and drains at the Potaro Main Access Road–Mahdia to Denham Bridge; rehabilitation of roads and drains in Mahdia; rehabilitation/construction of Brian Sucre Junction to Mahdia; rehabilitation/construction of Eagle Mountain Foot/Stone Hill to Konawaruk Junction (Phase 1); and rehabilitation of Mile 78 to Cassandra Crossing.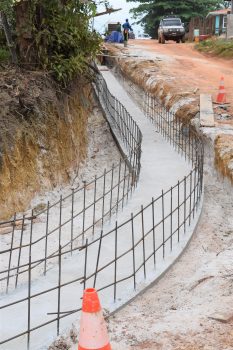 These projects are all scheduled to conclude within the coming weeks, the statement said, while adding that Patterson indicated that the focus will be turned to the rehabilitation of 10 kilometres of roadway between Cassandra Point and the Denham Bridge. This stretch is important, the statement noted, since it serves as a link between Bartica and Mahdia. Works on the stretch could commence in 2019, it added.
"It is our hope to bring greater relief and so we will be doing another 500 metres of roadway in Region Eight this year," Patterson was quoted as saying.
He also emphasised that while the ministry is keen on providing its help, the regional administration and the private sector also have roles to play in pushing for development within Region Eight.
Meanwhile, the statement said Patterson met with the board of the Mahdia Power & Light Company (MPL) and its members provided a progress report on the company's performance for this year thus far, including its income, expenditure, and collection rates. The chairman of the board also highlighted some of the challenges being experienced by the company.
Patterson was reported to have expressed concern over the collection rates, which typically peaked at 70%.
It was explained to the MPI team that residents are often in arrears.
In response, Patterson emphasised that MPL is a business and must therefore act accordingly to improve its reliability and overall service to consumers.
"We cannot have a power company operating as a social service…you will always be in a severe deficit," he said. "A company operating like this will run into serious problems," he added, while noting that it is important to maintain a certain standard where the residents uphold their responsibilities.
Patterson was accompanied on the visit by Permanent Secretary Kenneth Jordan, Chief Roads and Bridges Officer Ron Rahaman and Chief Executive Officer of the Hinterland Electrification Company Inc. Horace Williams. Minister of Business Dominic Gaskin and two representatives of his ministry were also present for the visit.
Around the Web