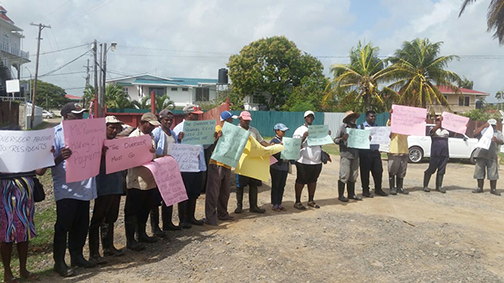 Councillors of the Port Mourant Neighbourhood Democratic Council (NDC), staff and residents yesterday protested outside of the council's compound for the removal of the overseer attached to the NDC.
Chairman of the NDC, Ishwar Narine Sammy, yesterday, alleged that the overseer has been lackadaisical in carrying out her day-to-day duties. The overseer could not be contacted for comment yesterday.
According to Sammy, staff members have lodged numerous complaints over the years, one of which is that their wages are not being paid on time.
"Upon checking we find that the overseer is not completing her tasks in preparation of these pay sheets to go down to the region in time," Sammy stated.
Sammy added that residents have lodged complaints at the Office of the Representative of the Prime Minister for Region Six, Gobin Harbhajan, which is located a stone's throw away from the NDC's compound.
"The residents are not satisfied with the kind of service provided from the overseer and they would go to the Prime Minister's Rep office and complain, and to date we are not getting any results from the Prime Minister's Office, I want to know if Mr. Harbhajan who take all these complaints and no results, if the office is there as a white elephant and Mr. Harbhajan is getting free pay, we need results from the government side", he continued.
Sammy noted that the workers and residents have become very frustrated, hence the protest action. He also alleged that the overseer has verbally abused staff and residents.
Stabroek News was informed that at the NDC's statutory meeting held on Tuesday, a recommendation was made for the overseer to be suspended from duties, after the council was provided with several complaints from market vendors, staff and residents.
"The office is locked, but that front door leave open since yesterday when she leave. Residents are out here, we can't deliver any services. Staff is out here, they can't have any access to the building to perform their duties", relayed Sammy.
The councillors are calling on the Minister of Communities to intervene before the matter escalates any further.
Meanwhile, Harbhajan said yesterday that residents had complained to him in 2016 and 2017. He said in 2016 he took the complaints to the Deputy Regional Executive Officer (DREO), Claude Henry, who had promised to look into it the matter. In 2017, Harbhajan took complaints to the DREO again, and the Ministry of Communities.
"The Ministry of Communities had launched an investigation in 2017, I don't know what came out of it, but the woman still remained there. Now in 2018 they seem to be having the same issues with her", Harbhajan lamented.
Around the Web