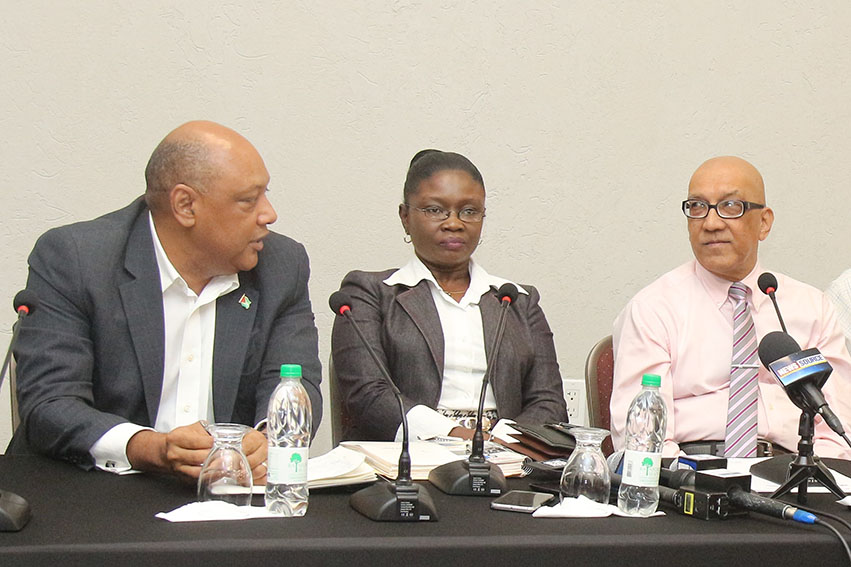 Natural Resources Minister Raphael Trotman yesterday announced that an analysis of the mercury emissions at the Guyana Gold Board (GGB) laboratory on Brickdam shows that levels were within "normal" limits but he said he proposes to have an expert review of the operations, which could be relocated.
The report by contractor Kaizen Environmental Services (Guyana) Limited said that air quality monitoring on March 28th at 10 locations in the Guyana Geology and Mines Com-mission (GGMC) Com-pound, Upper Brickdam showed that levels were within the United States Occupational Safety & Health Administration, eight-hour Permissible Exposure Limit.
Concerns by staff of the agency about the impact of mercury on their health had led to the commissioning of the analysis.
Speaking at a GGB press conference yesterday at Duke Lodge, Trotman said the health of every worker within the compound is of great importance.
"As has been said, we recognise that there has been an incident and that is not being denied. How-ever, we have been reliably informed based on expert findings presented in a report that things are normal. However, we are considering the long-term implications of this and we have been in discussions," Trotman said.
Some 130 persons were tested and Trotman revealed that 60 persons were found to be with above normal mercury levels, which he said could have been caused by other factors and those persons are currently being monitored.
"Each of us has mercury in our systems, so we will test positive for mercury. You will find that those who eat a lot of fish will have a higher level than those who are vegetarian or eat less fish. There are acceptable bands for the levels of mercury. What the Commission explained was that 60 persons appeared to have higher than normal level. We are now looking to disaggregate those numbers to see how many live on the coast and eat a lot of fish," Trotman said, while pointing out there was an instance where a new worker turned out at the Gold Board and when he was tested on his first day it was revealed that his mercury level was higher than every other staffer. This, he said, was revealed to be caused by the man's frequent consumption of fish.
Trotman then went on to state that he is proposing to the Board that there be an expert review of the functions of the lab to see "how it can be made to better function." He said the location of the Gold Board and what scientific interventions and other steps can be taken should also be addressed in the review.
In terms of finding a new location for the GGB, Trotman says that the issue of security is paramount in finding a new place.
"I am going to speak to the chairman of the board for an expert's review with recommendations for the features of the lab. If it is to be continued, where it is to be housed. I do believe that perhaps a new facility is what is needed but that new facility has to be protected. One of the advantages of having the Gold Board and the lab [on Brickdam with the GGMC] is the security," he added.
Chairman of the Board GHK Lall stated that the findings of the report are "comforting." Lall also emphasised that the health concerns surrounding mercury are of paramount importance to the Gold Board and they take it "very, very seriously."
"It is a priority and our actions have been geared towards addressing this situation, towards resolving the situation satisfactorily. To that end we have invested, not in a local entity, but a foreign entity by the name of Kaizen (based in Trinidad) and they sent in experts and they sent in equipment to conduct a host of tests. They have done so and they have shared the report with us," Lall said.
He also explained that the Board gave the company the permission to test wherever they wanted to and did not "chaperone them" and this, he said, was in the interest of transparency. He explained that they also consulted with the Environmental Protec-tion Agency, which also worked along with Kaizen.
"As I said, it's comforting. We are working towards some other things like repeat visits and equipment and let's face it, the issue that is there we would like to believe that we have done what is best for all concerned," Lall said, while pointing out that in the interest of alleviating all fears in the workers and other persons concerned they will continue to do multiple tests and put other systems in place.
General Manager of the GGB Eondrene Thompson also gave brief remarks and explained that they took a multifaceted approach in rectifying the situation. In addition to Kaizen, they also consulted a local company, Activation Lab, which also made recommendations. She also pointed out that the first round of tests cost some $300,000 and Trotman added that they are prepared to spend any amount of money to ensure that the workers and all persons that could be affected are safe.
The sites tested by Kaizen were the waiting area, laboratory, smelting room, burning room, mercury abatement site, GGMC parking lot, GGMC human resources department, the main security hut, the GGMC Hadfield Street security hut and Conway's Enterprise – Hadfield Street.
Around the Web